Scam emails: BlackBerry, Western Union, UPS, DHL, FedEx,…
There are quite a lot of people who get an email from Amanda Lee ([email protected] or [email protected]) which says she is the Marketing Manger of the BlackBerry. According to the message, the BlackBerry will give a mobile phone for free by simply forwarding the email to several people; as also reported by Hoax-Slayer.
In addition, in recent days as well, again, we receive emails which saying comes from Western Union, with the subject "Thank you for using Western Union!"
The email sent by someone who is located at "…[email protected] ". In the "reply-to" also there is another different email address, "[email protected]". In that email there is a file attachment with the name "Thank you for using Western Union!.doc", which contains the following:
Dear Sir / Madam,

For 156 years, Western Union has been connecting people. At Western Union, there's so much more than money you're sending. Every sender and receiver is important to us. To celebrate our 156th anniversary, we're rewarding our customers with prizes of USD60, 000.00

Because you sent money on-line, from an agent location or received money through Western Union, you've been selected.

However, you are required to forward the following information for immediate payment of your USD60, 000.00

1.) Bank Name:
2.) Beneficiary:
3.) Account Number:
4.) Bank Address:
5.) Swift Code or Routing Number:
6.) Your Mobile Telephone Number:

You will be contacted by a Western Union in the next 24 hours as soon as you forward your required information and you will receive the USD60, 000.00 prizes immediately from us.

Save time, send money, earn rewards! Western Union is a service people trust.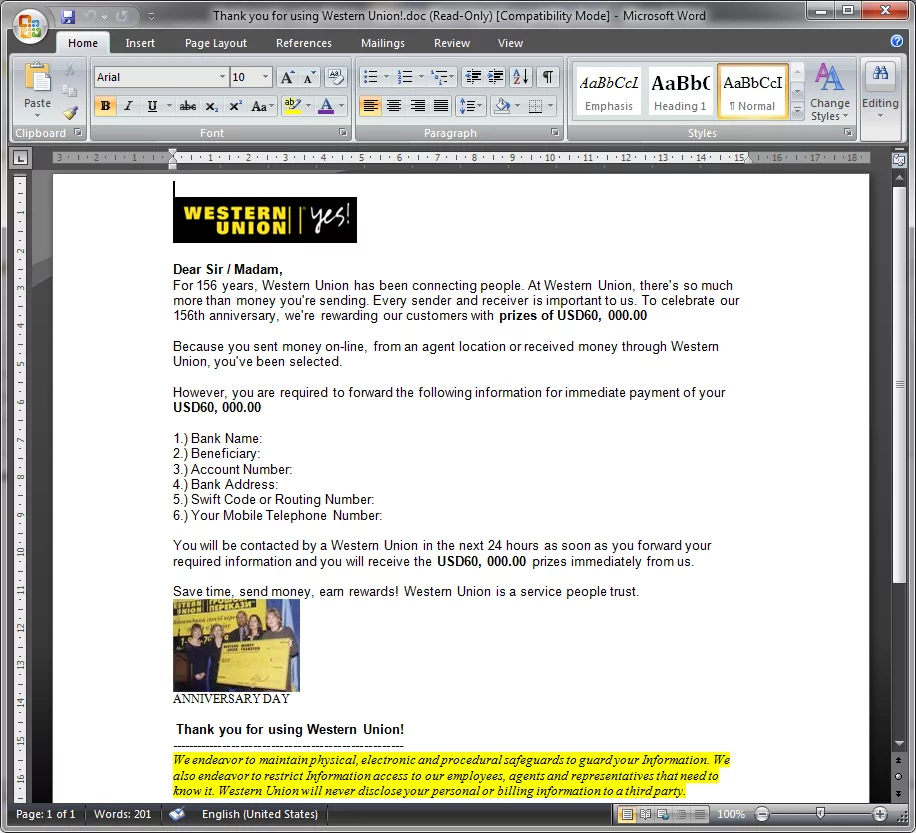 On its Web site, Western Union is already telling a good education to every customer to be careful when getting a suspicious e-mail:

Another fake email that also widespread are from UPS, DHL or FedEx. As we mentioned in our previous post about the fake email from FedEx, which contains Trojan-Dropper.Win32.Oficla, or Sasfis.
All of these scam emails has long been reported, but still hang around. For that, again, we recommend to always be careful when you receive a suspicious email, do not immediately click on links or open the attachments, find out the truth first. Also you can forward the suspicious email to us, and we will be happy to analyze it.
Highly advanced worm for sabotage nuclear facilities