Emsisoft Anti-Malware excels at VB100 June 2013
The results for Emsisoft Anti-Malware in the latest VB100 test, carried out on Windows Server 2012,  were outstanding:
100% detection of all standard and extended WildList samples and zero false positives, with fast installation of the software and minimal memory usage while running. Plus: a perfect stability rating, which was achieved by only 4 out of over 40 products submitted!
Therefore Emsisoft Anti-Malware was awarded with the VB100 award for June 2013. Together with achieving 100% protection in the AV-Comparatives Real-World Protection Test and MRG-Effitas recently, this is another major victory for Emsisoft this year. Let's take a look at these remarkable test results:
On demand Standard & Extended Wildlist:  100%
On access Standard & Extended Wildlist:  100%
0 False Positives, 0 Warnings
Time taken to install: 2:55min (worst performances by our competitors >15min!)
Stability rating: Solid (awarded to 4/31* products, highest possible stability ranking)
Virus Bulletin concludes: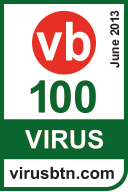 "[…] Emsisoft has been doing pretty well in our tests lately"
"The product is friendly and simple…"
"Installing and updating was zippy, with no reboots needed, …"
"Detection was solid, with good scores throughout."
About Virus Bulletin
Virus Bulletin conducts some of the most respected tests in the Anti-Virus industry, as a neutral authority. We are proud to announce that Emsisoft Anti-Malware has once again achieved the VB100 award in June 2013. The full report can be found in the June 2013 edition of Virus Bulletin.
* out of over 40 products initially submitted, a few were excluded from the list of participants due to unreliability.
Emsisoft Emergency Kit 4.0 released!