Emsisoft one of Austria's Leading Companies
Salzburg, November 6th 2013: Emsisoft wins Austria's Leading Companies Award 2013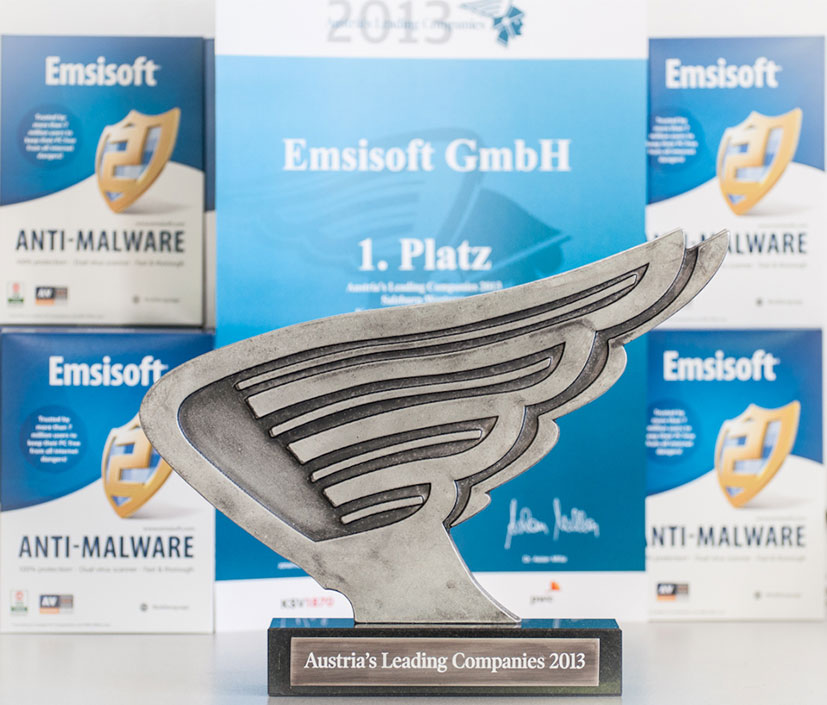 As the article is available in German only, we have taken the liberty of passing on a translation of the most important points for you. Please find the German original on the Wirtschaftsblatt website.
Emsisoft declares war on Viruses
Known for its sophisticated anti-malware products, Emsisoft was awarded for its solid business performance in the "small businesses in the Salzburg area" category of  today's Austria's Leading Companies ceremony. Increasing both growth and awareness of our premium software remain Emsisoft's major goals for the years to come.
Ten years ago, partner and managing director Christian Mairoll founded Emsisoft. Today, Emsisoft counts over one million users worldwide, resulting in a market share of approx 1% in the antivirus sector. The client base is highly diversified. So is the team: The 25 company employees are scattered over all the world – from the USA, Brazil, Germany, Ukraine, Russia and India to Indonesia. The primary methods of communication are Skype and email. Mairoll: " Emsisoft is a 100 percent virtual company." It comes as no surprise that the website is available in many languages and the software offers over twenty different translations. "We sell mainly through our website," Mairoll states. In general, prospective clients are computer users who use Microsoft software.
About 80 percent of Emsisoft customers are home users, mainly from Germany, the USA and France. The Austrian market accounts for only four percent of sales and has been growing by 15 to 20 percent over the last few years. There was also a small profit each year, says the company 's CEO. In the coming years he will – as before, and without debt – continue to grow and hire more people, especially for the sales department.
"The goal is not only to produce the best product, but people should know about it, too," says Mairoll. He refers to various rankings in which Emsisoft products have scored impressively. Emsisoft Anti-Malware also won the recent AV Comperatives "Real-World" Protection test in September 2013. "We can compete with the big players like Kaspersky, easily," Mairoll is confident. "One of our unique selling points is that we can detect viruses used for targeted attacks, such as corporate espionage, very early through behavioral analysis of all programs," he concludes.
About the ALC
Austria's Leading Companies ( ALC) is Austria's most important business competition. It is performed by business daily "WirtschaftsBlatt", KSV1870 and PwC Austria. It awards sustainable, successful and financially stable companies – objectively and comprehensively. The ALC competition evaluates the performance of a company over the past three years. This is made possible by a comprehensive performance measurement system which is based on a variety of keyfigures such as income, profitability and liquidity ratios. In order to compete, the submission of annual reports or annual financial statements for 2009 to 2012 was mandatory.
Emsisoft Anti-Malware shows how it's done: MRG Effitas Tests Q2-Q3 2013