Emsisoft Conquers MRG-Effitas Q4 2013 Time to Detect Assessment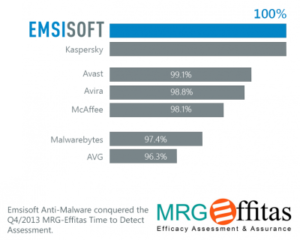 The Q4 2013 MRG-Effitas Time to Detect Assessment results are in, and Emsisoft Anti-Malware has received a Perfect 100% score once again.
Absolutely nothing slipped through, and we achieved a Time to Detect Metric of exactly 0 hours.
To achieve this score, Emsisoft Anti-Malware blocked 567 in-the-wild malware samples on it's very first scan.
That's 100% Detection, for 100% Prevention, instantaneously.
Find more on this recent win at the Anti-Malware-Reviews Blog.
A Typical Day at Emsisoft's Headquarters