Privacy Alert: Millions of Cat Identities Have Been Exposed!
Attention: Your cat's identity may have been compromised.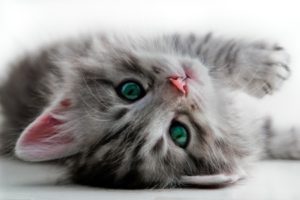 Sound serious? Well, it depends on how camera-shy your kitty is.   A new study from Florida State University has compiled 15 million publicly accessible images of cats posted on social media sites to create an online mapping of the world's felines.
Headed by one Professor Owen Mundy, the project has utilized APIs from websites like Flickr, Twitpic, and Instagram to collect images tagged with the word "cat." Due to the nature of most social media sites, smart phones, and GPS tracking, such images also contain metadata that conveys the exact geographical location of where the photo was snapped. In all, Mundy's interactive map reveals the latitude, longitude, and headshot – sometimes with human owner – of roughly 1 million feline pets.
Here's  the schematic in its entirety, and here's some more info on the project, along with some associated press. As Mundy points out himself:  he could just as easily have named the project "I know where you live" or "I know where your kid lives" – but he didn't want to be that creepy. Admirable, academic ethics mean nothing to identity thieves, though; and while I Know Where Your Cat Lives is quite humorous, it carries dark undertones.
As the site creators put it best: "This project explores two uses of the internet: the sociable and humorous appreciation of domesticated felines, and the status quo of personal data usage by startups and international megacorps who are riding the wave of decreased privacy for all." That last part is extremely important to everyone alive today – human or feline – irregardless of whether they personally use the web.
Have a great (privacy-protected) day!
ALERT: Fake ID Lets Malware Impersonate Legit Android Apps