New version of the popular free virus scanner "Emsisoft Emergency Kit 9" available
The only free 100% portable dual-scanner (antivirus + anti-malware) that requires no installation or Internet.
Malware emergencies. They come in every color, and they are anything but fun.
Whether it is a virus or a worm that's catapulted your computer into a strange sequence of screens and errors, a Trojan download set to steal banking files and personal info, or simply the toolbar-extension-that-breaks-the-browser's-back and sends your Sunday morning surf into an uphill ski in hell, malware is usually not a laughing matter.
Malware is the Internet's widespread sickness. And it sucks.
Second opinion from the anti-malware experts

The quick, cure-all solution for system-wide headache and data-loss heart bleed is now available for download – completely free to anyone who needs it. The brand new Emsisoft Emergency Kit 9 immediately cures more than 11 million live and active security diseases, and it is easier to use than ever before. Improving upon its popular predecessor, version 9 is perfect for whenever malware strikes and immediate diagnosis is required.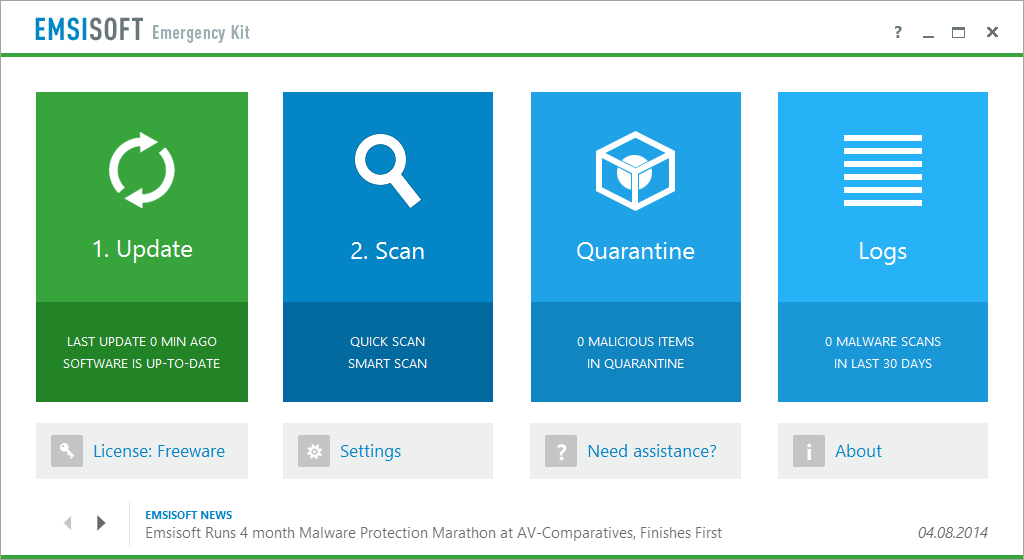 The only 100% portable dual-scanner, no Internet required
Emsisoft Emergency Kit 9 is not only the newest and quite possibly most efficient malware cleaner around, but it's also the world's only free and 100% portable scanner that combines two full-fledged recognition engines, based on the award-winning technology of Emsisoft Anti-Malware.
"Portable" means that you can run it right after download, no installation required. If you don't want to keep the kit, you can simply get rid of it. It's just a small folder that you can delete like any other, to completely remove all traces of its presence.
"No Internet" means it works anywhere. After download, Emsisoft Emergency Kit 9 can operate as a completely functional antivirus scanner, without connecting to the Internet or "the cloud." This capability is perfect for malware emergencies where all possible links to a malicious server must be severed. After the crisis is resolved and you're back online, the kit can then be continually used as a "second opinion scanner."
And free? Free means free. Actually, because it is completely free for private use, we recommended downloading Emsisoft Emergency Kit 9, even if you are already running an antivirus program. The scan is quick and unobtrusive, and it can sometimes find hidden infections that have not yet been discovered. Once the scan is done, you can copy the kit to a USB stick and save it for future use, when needed. From there, the stick only needs to be plugged in, to start the emergency scanner in Windows Explorer. This makes Emsisoft Emergency Kit 9 the perfect antidote for disabled systems, and a powerful tool that can easily be shared with friends and family.
Emsisoft Emergency Kit 9 Download
What's New in Version 9
Improved usability: The completely revised user interface in version 9 is optimized for Windows 8 and based on Emsisoft Anti-Malware 9. The new design arranges the main functions with corresponding shapes and coloring, making them quickly accessible and easy to understand – especially for users who are facing malware for the very first time.
Faster scans with better detection: Our dual-scanner strategy has been tried and tested for many years, and it has successfully won countless comparatives and awards from renowned anti-virus test labs, like AV-Comparatives and Virus Bulletin (VB100). The malware scanner has been improved in this newest version and new cleaning routines have been added as well. This ensures that even the latest threats can be safely and thoroughly removed, and that your system will function properly after cleaning. Additionally, we have greatly increased scanning speed.
Hundreds of detail improvements for a better user experience: It's the simple things in life that bring us joy. Emsisoft has built a reputation around actively listening and responding to our customers. This approach has allowed us to develop and incorporate hundreds of improvements into this new version of the Emsisoft Emergency Kit, many of which wouldn't have been possible without customer feedback. For this reason, Emsisoft would like to personally thank each and every one of our countless beta testers for all of their hard work and dedication!
Advanced Evaluation: The Logs section now provides more insight into a variety of different processes, like scans, quarantines and updates. Logs like these are good for personal reference (if you're feeling geeky), and they are extremely helpful to our analysts in the event of complications, from advanced malware strains.
New PRO license: A new licensing model now allows professional use in business applications, like help desks, PC repair services, administrators and all those other pros who clean up after malware every single day.
Bonus: Emsisoft Commandline Scanner + BlitzBlank
In addition to the graphical, Windows scanner, Emsisoft Emergency Kit 9 also includes the Emsisoft Commandline Scanner, which allows full control of all features from the command line. Known as one of the most sophisticated command line scanners around, this program is especially appreciated by technicians who integrate it into automated scripts. On top of that, Emsisoft Emergency Kit 9 also comes with Emsisoft BlitzBlank, a small but effective tool for advanced users that can completely remove malware files that actively oppose deletion.
Download now for free!
A sophisticated second opinion scanner – free, no risk, no installation necessary, works in combination with other programs – what are you waiting for? Download it here!
Licensing
Private users: Emsisoft Emergency Kit 9 is free for private use. For a fee of $14.95 plus $4.95 shipping, it can also be ordered online, pre-loaded onto a 16GB USB stick.
Professional users: Companies and other professional users can now get a commercial PRO license of the Emsisoft Emergency Kit as well. PRO licensing starts at $99 per year, for up to 250 scanned PCs and includes a high-quality aluminum 16 GB USB flash drive, a free Emsisoft Anti-Malware license for 1 PC/1 year and free shipping. Larger license packages for 500, 1000, 2000 and more PCs per year are also available. See product details and purchase options.
Emsisoft benefits that haven't changed
Malware removal guarantee: Our malware removal experts will always help you clean your system. This service is free of charge and has no obligations.
Emsisoft Technology Guarantee: As always, all customers who already use an older version of the Emsisoft Emergency Kit scanner will receive this new version at no cost, through the integrated online update function. No re-installation is necessary. We don't just sell software – we are committed to keeping your PC clean.
Emsisoft Customer Support: Don't hesitate to ask our first class support team any questions about malware, licensing or product features – even if you are not an Emsisoft customer yet.
Additional screenshots of the new Emsisoft Emergency Kit 9: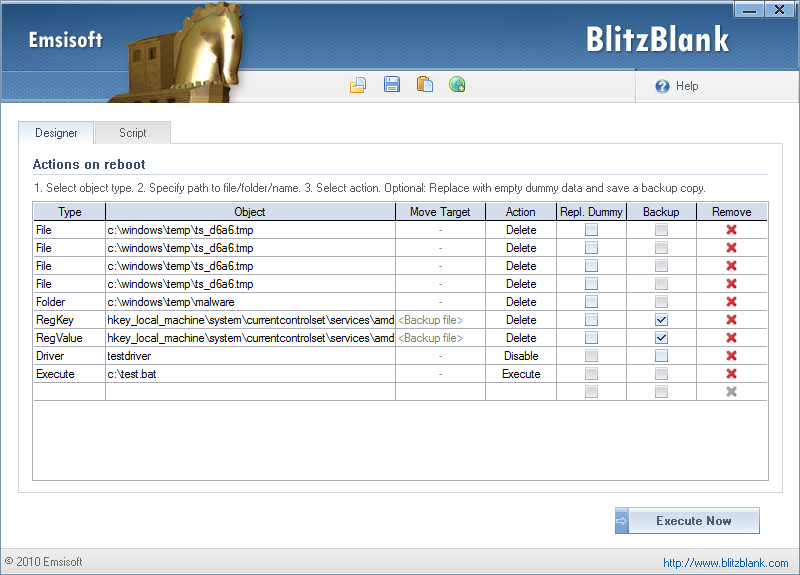 How to scan and clean a computer with Emsisoft Emergency Kit