"Excellent" for Emsisoft Anti-Malware at recent Netzsieger test
Emsisoft Anti-Malware 9 was rated a "solid and safe program" and achieved a score of 4.74 / 5, ranking "Excellent" in the first test run.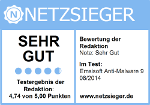 The improved user interface, that can be used quite easily on touch-enabled computers, and the fast response times of our multilingual support forum especially caught the editors' attention.
Netzsieger editors also appreciate that Emsisoft Anti-Malware can be operated in parallel with other antivirus software. Whether you need two virus scanners at the same time or not, Emsisoft leaves the decision up to the user.
Editorial verdict: "Emsisoft Anti-Malware 9 is a very good antivirus program that comes with a double protection engine and the compatibility to run multiple virus scanners from other security vendors."
The full report is available at www.netzsieger.de (German only).
Data Breach Alert: 51 UPS Stores Affected!