New prices: Save 15% on 3-packs and 50% on Server licenses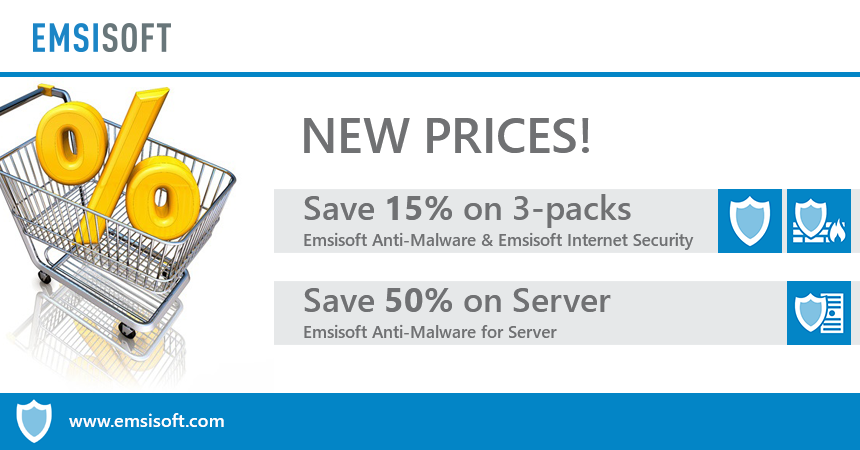 When software vendors talk about changed prices, most buyers immediately translate that to "increased" prices. As a matter of fact, we at Emsisoft didn't increase the base price of any of our products for the last 5 years or so – and we also don't intend to do it now. Quite the opposite: We have analyzed our typical customer needs and came up with a new price list that we think will meet most users' needs even better than before.
15% price reduction on 3-PC keys of Emsisoft Anti-Malware and Emsisoft Internet Security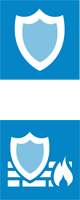 The regular price for a 1-year single seat license of Emsisoft Anti-Malware is US $39.95. The new 3-pack which can be used either at home or in a small business office is now available at only 1.5 times that amount: US $59.95.
Only US $15 more buys a 3-PC key for Emsisoft Internet Security to protect the whole family or office-team: US $74.95.
To serve the growing demand of small- and medium-sized businesses, we also reworked our volume pricing scheme. A steep discount model makes Emsisoft protection affordable for every company from 1 to 100, or even more computers.
50% price reduction on Emsisoft Anti-Malware for Server

Even though data stored on a server is typically worth far more than five times the value of a workstation machine, we believe malware protection for servers must not be that much more expensive. Therefore we cut the prices by half and also applied a new steep volume discount scheme.
Applies to renewals too!
Please note that the new reduced prices also apply to license renewals. Our renewal discount scheme didn't change and still offers industry leading benefits: You always receive a 25% discount on renewals and with each additional year you remain an Emsisoft customer, you are rewarded with 5% more discount – up to 65% off!
That loyalty discount doesn't even get lost when you switch between our products or change the numer of licensed seats. So you may upgrade from a single PC to a 2- or 3-pack at any time and take advantage of the flexibility Emsisoft offers.
View your renewal and upgrade options or simply click the "Renew license" button in the software's license settings.
Emsisoft supports Windows 10