Top 10 best Windows Defender alternatives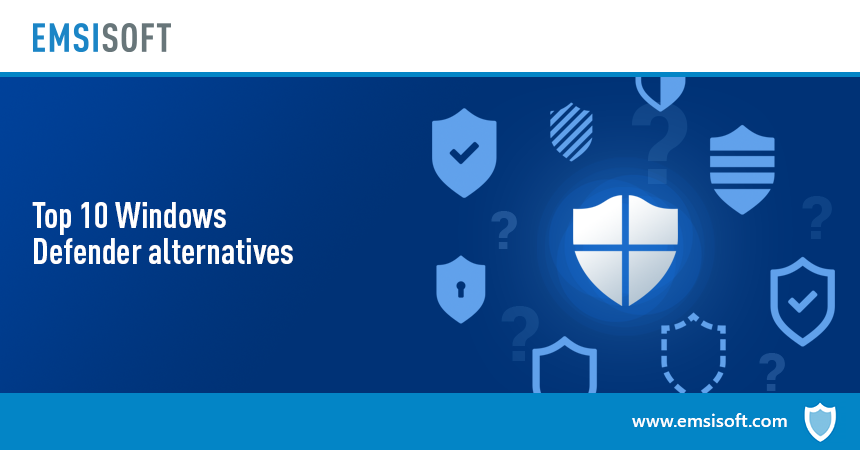 In today's interconnected world, protecting your computer from digital threats has never been more important. The good news is that there are many ways to achieve this – so many ways, in fact, that it can be tough to know where to even start.
You have built-in options such as Windows Defender, which has seen significant improvements in recent years; a plethora of free anti-malware options, some much more effective than others; and a wide selection of premium IT security solutions that promise to safeguard your computer against a range of complex cyber attacks.
But with so many IT security products seemingly doing very similar things, how can you know which option is right for you? In this article we're going to give you all the information you need to answer this very question. We've compared 10 of the most robust anti-malware products available on the market today to help you make a more informed decision when it comes time to choose IT security software.
Is Windows Defender good enough?
Once a standalone application, Windows Defender is now a component of Windows Defender Security Center, which was rolled out as part of the Windows 10 Creator Update in early 2017. The Security Center takes a holistic approach to security and is designed to protect against malware, monitor your network via Windows Firewall, track device performance and identify potentially malicious websites.
Is Windows Defender sufficient to protect my computer?
In the past, the answer was simple: no. However, over the years, Microsoft has put a lot of work into bringing their proprietary security product up to scratch, and we're pleased to see their efforts have been – for the most part – fairly successful. A number of tests from independent labs show that Windows Defender's performance and ability to protect against zero-day malware has improved considerably in recent years, and now offers a decent level of baseline protection.
However, despite the improvements, Windows Defender still lags behind industry leaders and remains far from a perfect solution.
Why?
Windows Defender's ability to protect from ransomware is somewhat inconsistent.
It largely ignores malware it perceives to be a lesser threat such as Potentially Unwanted Programs which, left unchecked, can quickly eat up precious system resources.
Windows Defender is relatively resource hungry and can have a noticeable effect on performance during day to day use of your computer.
Replacing or supplementing Windows Defender with a premium anti-malware product helps diversify your defenses and minimize some of the risks associated with a software monoculture.
To summarize, Windows Defender is okay. It's not great, but it's a lot more effective than it was and it's substantially better than having nothing. With that being said, you do have better options.
Top 10 Antivirus alternatives to Windows Defender
1. Emsisoft Anti-Malware
Founded in 2003, Emsisoft is a New Zealand based business that emphasizes a light-weight, bloat-free, back-to-basics approach to combating malware. A combination of advanced layered protection and an industry-leading behavioral detection system has helped the company's flagship product, Emsisoft Anti-Malware, earn itself a powerful reputation in the IT security sector as a complete antivirus solution. Among its many credentials, Emsisoft Anti-Malware has scored top marks in multiple AV-Comparatives tests, received AV-Test Certification and won multiple VB100 awards.
An excellent Windows Defender alternative, millions of Emsisoft customers around the world sleep easy knowing their devices are protected from online attacks.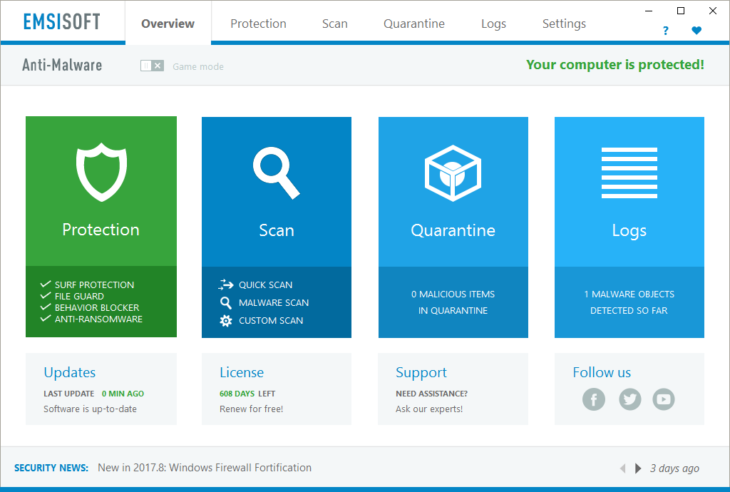 Notable features
Powerful Dual Scanner: comprised of a Bitdefender scanner and Emsisoft's own proprietary system, Emsisoft Anti-Malware's dual scan engine ensures no malware slips through the cracks, whether that's trojans, worms, keyloggers or advanced ransomware.
Behavior Blocker: Emsisoft's proprietary technology checks for malicious behavior in programs and alerts you when something suspicious happens.
Anti-Ransomware module: actively protects against ransomware such as the recent Wannacry and Petya attacks, stopping intruders before they can encrypt any data.
Fantastic support: Emsisoft offers a malware removal guarantee, and in the event of an infection the Emsisoft support team will guide you through the removal process from start to finish.
Trial
Emsisoft offers a 30 day free trial of Emsisoft Anti-Malware, no credit card or personal information required.
Price
RRP US$39.95 for one year, one PC. Beyond the 30-day money back guarantee, a unique loyalty discount gives you 25 percent off on your first renewal and an extra 5 percent off for ever year after that (up to a maximum of 50 percent).
2. Bitdefender Internet Security 2018
Romanian IT security software company Bitdefender has been in the game since 2001. Its products consistently score very highly in independent tests and today Bitdefender software is installed on more than half a billion machines around the world. The company's latest offering, Bitdefender Internet Security 2018, promises to be worthy of upholding Bitdefender's legacy and makes for a great alternative to Windows Defender.
Notable features
Advanced scanning: Bitdefender Internet Security 2018 offers one of the best malware scanning engines on the market.
Privacy protection: a slew of privacy features designed to protect your privacy, including webcam protection, secure browsing, anti-fraud systems and more.
Bitdefender Autopilot: when enabled, the software runs completely autonomously in the background.
Trial
Bitdefender offers a 30 day free trial of Bitdefender Internet Security 2018.
Price
RRP US$59.99 for one year, one device.
3. Kaspersky Total Security
Kaspersky Total Security from Russian giant Kaspersky Lab comes with an overload of features for all thinkable situations, making it a good option for anyone looking for a more comprehensive Windows Defender replacement. A product this laden with features does require a bit more oomph than more lightweight tools, but for most people it's a very worthwhile tradeoff.
Notable features
File encryption: drag and drop sensitive files into a data vault, which encrypts all files contained within, making them completely inaccessible to hackers, thieves and nosy coworkers.
Secure Connection: new in 2017, Kaspersky Total Security includes a simple VPN known as Secure Connection. You get 200mb of free traffic per day, upgradable via paid subscription.
Comprehensive solution: packed with more features than you can shake a stick at, Kaspersky Total Security is a great all-in-one solution.
Compatibility: Kaspersky Total Security runs on a variety of operating systems, including Windows, Mac OS, iOS and Android, with functionality varying a fair bit between versions.
Trial
Kaspersky Lab offers a 30 day free trial of Kaspersky Total Security.
Price
RRP US$99.99 for one year, five devices.
4. Malwarebytes 3.0 Premium
Malwarebytes was launched in 2006 and its software quickly became the go-to product for anyone in need of an effective tool to clean up their machine after sustaining an infection. The company has taken things in a different direction with the release of its latest product, Malwarebytes 3 Premium, which is being framed as a fully fledged antivirus replacement and no longer as a complementary tool to existing antivirus software.
While independent labs are yet to verify this claim (the software's layered protection system makes conventional testing difficult), we know that Malwarebytes will continue to refine its antivirus solution.
Notable features
Layered protection: comprised of four independent IT security modules rolled into one, Malwarebytes 3 provides advanced layered protection against digital threats.
Speedy full scan: take the wait time out of malware protection. Malwarebytes 3 typically completes a full system scan in just a few minutes.
Well-respected supplementary software: unlike some security tools that don't play nicely together, Malwarebytes software works seamlessly when used in conjunction with other security software.
Trial
Malwarebytes offers a 14 day free trial of Malwarebytes 3.0 Premium.
Price
RRP US$39.99 for one year, one device.
5. ESET NOD32 Antivirus
ESET might not be the first name that springs to mind when you think of IT security, but the company has been dutifully creating antimalware products for more than 25 years. Named after the Egyptian goddess and magical healer Eset, the Slovakia-based company's software routinely fares well on independent tests and ESET NOD32 Antivirus is no exception.
Notable features
Extensive configuration options: robust and versatile protection for those who aren't afraid to dive into the configuration menus.
Host Intrusion Prevention System: identifies suspicious behavior and prevents potentially malicious programs from executing.
Lightweight: ESET NOD32 Antivirus is a lean and focused solution without unnecessary features.
Trial
ESET offers a 30 day free trial of ESET NOD32 Antivirus.
Price
RRP US$39.99 for one year, one device.
6. Avira Antivirus Pro
Established way back in 1986, German software company Avira is a pillar of the modern IT security industry and its free antivirus product is one of the better non-paid options around. However, for a higher level of protection, you might want to consider investing in Avira Antivirus Pro.
Notable features
Secure browsing: automatically blocks access to malicious websites and protects against phishing attacks.
Ransomware protection: advanced heuristic technology identifies and intercepts ransomware before it can infect your machine.
Compatibility: Avira Internet Security Suite runs on Windows and Mac OS.
Trial
Avira offers a 30 day free trial of Avira Antivirus Pro.
Price
RRP US$49.95​ for one year, one device.
7. Avast Pro Antivirus
From VPNs to cleanup tools and everything in between, multinational Czech-based Avast offers a wide range of cybersecurity products catering to consumers and businesses alike. Avast Pro Antivirus scores well in tests from independent labs and comes bundled with some nifty bonus features that make it a worthy alternative to Windows Defender.
Notable features
Password manager: a useful addition to any IT security product, Avast Pro Antivirus' password manager ensures all your access codes are kept safe from harm.
Wi-Fi Inspector: a unique tool that checks your network and alerts of you any potential security issues.
Sandbox mode: tinker with suspicious files in a safe environment without putting your computer at risk.
Trial
Avast offers a 30 day free trial of Avast Pro Antivirus.
Price
RRP $49.99​ for one year, one device.
8. Webroot Internet Security Plus
US-based Webroot is one of a handful of IT security providers that does not maintain a database of malware signatures, instead relying entirely on the cloud to identify and protect against digital threats. The company's mid-range solution, Webroot Internet Security Plus, makes use of this technology to full effect.
Notable features
Small footprint: thanks to its cloud-based protection system, the software is positively tiny in size – Webroot Internet Security Plus takes up a paltry 15mb.
Fast scan: according to Webroot, it takes just 20 seconds to scan a computer.
Generous returns policy: Webroot offers a 70-day money back guarantee, no questions asked.
Multi-device: if you're looking to secure a variety of devices, Webroot Internet Security Plus covers up to 5 PCs, Macs, tablets, or smartphones.
Trial
Webroot offers a 14 day free trial of Webroot Antivirus, no credit card required.
Price
RRP $59.99 for one year, one device.
9. McAfee Antivirus Plus
McAfee has been around in one form or another for more than 30 years, and today is perhaps the most recognizable name in the IT security industry. A good cross section of the company's products can be found in McAfee AntiVirus Plus, a comprehensive security solution that's full to overflowing with additional features.
Notable features
Unlimited installations: owners of multiple devices will be thrilled to know you can install McAfee AntiVirus Plus on as many systems as you want.
Firewall: a highly configurable firewall that does all the heavy lifting for you by automatically allowing network access to known programs and shutting down potentially malicious activity.
File shredder: allows you to not just delete files but shred them, overwriting your unwanted files up to 10 times before removing them.
Compatibility: McAfee AntiVirus Plus runs on Windows, Mac OS, iOS and Android.
Trial
McAfee doesn't offer a trial of McAfee AntiVirus Plus.
Price
RRP $59.99 for one year, unlimited devices.
10. Norton Security Standard
What started out as an AI company back in 1982 has grown into a security giant, and today Symantec offers a massive range of consumer and enterprise grade security software. Norton Security Standard offers all the standard antivirus capabilities and a bunch of bonus features that will keep you and your machine out of trouble.
Notable features
Secure browsing: Norton Security Standard flags dodgy and suspicious links in search results to protect your identity and keep you safe when browsing.
Firewall: a robust, two-way firewall that gives you full control over how your programs interact with the network and the wider Internet.
Compatibility: Norton Security Standard runs on Windows, Mac OS, iOS and Android.
Trial
Symantec offers a 30 day free trial of Norton Security Deluxe and Norton Security Premium.
Price
RRP $69.99 for one year, one device.
What's the best Windows Defender alternative for you?
It's important to note that this is far from an exhaustive list – in fact, this article is really just the tip of the iceberg! Add in the dozens of other premium security products not mentioned here, as well as the various free anti-malware tools circulating the web, and it's fair to say that you're spoiled for choice when it comes to worthy Windows Defender alternatives.
The exact software you choose depends on your needs, browsing habits, operating system and the number of devices you want to protect. Whether you want a feature-laden security suite with all the bells and whistles, or a streamlined solution dedicated to protecting your machine against known and emerging online threats, at least one of the products described in this article will be right for you.
In summary, Windows Defender offers a base level of protection that is better than nothing, although it pales in comparison to any of the premium security solutions featured in this article. Here at Emsisoft, we're proud to share the IT security space with so many visionary companies and we look forward to working alongside our peers to protect the world against digital threats in the years ahead.
Do you use an antivirus product not featured in this article? Let us know in the comments and we'll consider adding it to the list!
Have a great, malware-free day!
WannaCry Ransomware: Interview with Emsisoft's ransomware experts