Emsisoft wins Advanced+ at AV-Comparatives File Detection Test
October 16, 2014

2 min read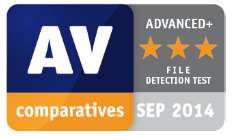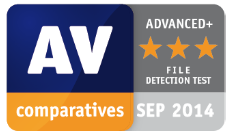 Whenever independent test lab AV-Comparatives conducts its File Detection Test of Malicious Software, you can count on two things.
Lots of malware
Emsisoft detecting most – if not all – of it.
99.3% of all malicious samples blocked
This time around, there were 126,335 malware samples, and Emsisoft Anti-Malware blocked 99.3% of them. That's earned us yet another AV-C Advanced+ Award. More importantly, though, it's given our users just one more reason to trust Emsisoft for consistent protection against an ever-growing world of threats.
Very few false positive scares
Something else you can count on? Malware being scary. That's why Emsisoft products are designed to warn and protect you ONLY IF the threat is real. AV-Comparatives' latest File Detection test has also proven that Emsisoft Anti-Malware produces 'very few' false positive scares. How few was 'very few'? 4, to be exact. That's 30 times less than the product that came in last, at 120 false alarms. That's also the difference between a product that can confidently discern between malicious and benign and one that will leave you second guessing yourself the next time you download a file you weren't too sure about in the first place.
About AV-Comparatives
AV-Comparatives is an independent not-for-profit organization offering systematic testing that checks whether security software, such as PC/Mac/Android-based antivirus products and mobile security solutions, lives up to its promises. Using one of the largest sample collections worldwide, it creates a real-world environment for truly accurate testing. AV-Comparatives offers freely accessible results to individuals, news organizations and scientific institutions. Certification by AV-Comparatives provides an official seal of approval for software performance which is globally recognized. The full September 2014 File Detection Test of Malicious Software results are available for download here.