Video Review: Emsisoft Internet Security 9 scores 100%
December 10, 2014

1 min read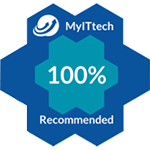 Youtube Channel MyITtech put Emsisoft Internet Security 9 through a test to see how well it can protect you and your computer from viruses, malware, PUPs and other online threats. Result:
Emsisoft Internet Security scored 40 out of 40 points (100%)!  Only one other program scored as high this entire year.
The video explains the testing method used in more detail, but in short: MyITtech uses four stages of testing in its antivirus reviews: a demand scanning test, malware pack test, full system scan, zero-day malware test and additionally two second opinion tests in where it checks if other antivirus programs can find any suspicious objects.
Watch the video to see how Emsisoft Internet Security detects, blocks and removes all malicious files, PUPs, URLs and executable files that it was subjected to (or watch the summary video here):
https://www.youtube.com/watch?v=ym7cVXGrtK4
Download now: Emsisoft Anti-Malware free trial.
Antivirus software from the world's leading ransomware experts. Get your free trial today.
Try It Now
Thank you MyITtech for the review. Please share and like the video if you're a proud Emsisoft-user!