Fourth time in a row: Advanced+ ranking in Real-World Protection Test
December 16, 2014

3 min read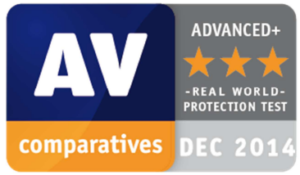 Emsisoft Anti-Malware received the highest possible ranking (Advanced+)  in the four-month long Real-World Protection test marathon from AV-Comparatives. The test evaluates real-world protection capabilities of leading antivirus programs, mimicking the typical experience of your everyday PC use. The results summarize the performance of 23 antivirus programs in the second half of 2014.
Highlights of the report:
Emsisoft's Behavior Blocker showed an excellent performance again. Leaving only 6 out of 2360 malware samples through. That's a total detection rate of 99.7%.
This is the second best result across the entire test range of 23 of the best antivirus products available.
As a comparison, the weakest 4 candidates were not able to block 251 to 389 of the samples tested.
The lowest score in this comparative test was Microsoft's Security Essentials. With only 83.5% of the samples blocked, it showed again that it's very basic protection (as MS even states themselves) and that it is not ready to keep up with the vast amount of new threats every day.
The graph below shows the overall protection rate (all 2360 samples), including the minimum and maximum protection rate for the individual months August-November: (*click on image to enlarge)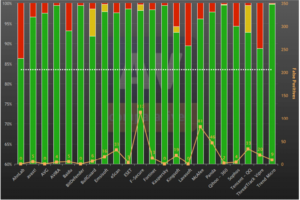 Advanced+ score in ALL tests in 2013 and 2014
AV-Comparatives performs the comprehensive, four-month Real-World protection tests twice a year. Emsisoft Anti-Malware received the highest possible ranking since it started participating in the test: we received Advanced+ scores in both the first and second half of 2013 and  earlier this year in the first half of 2014. Only 3 out of the 23 participating antivirus programs received this score for all tests in both 2013 and 2014, and we were one of them!
About the AV-Comparatives test
AV-Comparatives uses default settings on all programs tested, and each program runs on its own test computer with its own external IP address. Every morning, any available security software updates are downloaded and installed, and a new image is made for that day. A total of over 120,000 test cases were executed in this test, that is 2,360 malicious test cases and 3,000 clean test cases for each of the 23 products tested.
Download now: Emsisoft Anti-Malware free trial.
Antivirus software from the world's leading ransomware experts. Get your free trial today.
Try It Now
AV-Comparatives recommends that all parts of a antivirus product should be as effective as possible, and that e.g. a URL blocker is ineffective against malware introduced to a PC via a USB flash drive or local area network. Therefore, all protection features can be used to prevent infection during the test – not just signatures of heuristic file scanning. An antivirus can step in at any time of the process to protect the PC:  accessing the url, downloading the file, formation of the file on the local hard drive, file access, file execution. It also remains very important that the signature-based and heuristic detection abilities of antivirus programs continue to be tested. Even with all the protection features available, the growing frequency of zero-day attacks means that some computers will inevitably become infected. As signatures can be updated during the test, they provide the opportunity to recognize and remove malware that was initially missed. To learn more about AV-Comparatives, its testing methodology and the results, read the full report here.