Christmas special: Two useful programs for free with your order
December 22, 2015

3 min read
If you're looking for another kind of last-minute Christmas miracle, then it is time to cheer up: if you decide to buy or renew Emsisoft Anti-Malware or Emsisoft Internet Security this Christmas season, you'll get not one but two premium tools for free on top of your order! For a limited time only, you'll receive Adguard Premium and Folder Marker Home edition (a US$ 64.95 value!) for free with your order.
Gift 1: Adguard Premium – Remove annoying ads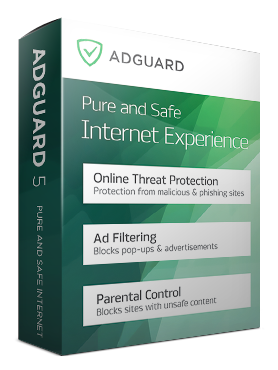 Ad blockers can improve your online safety and sanity in various ways, as we wrote about earlier this year. Adguard provides you with a reliable and manageable protection that immediately and without your participation filters the loading web pages.
Features include:
Removes ads and online tracking code directly from the page.
Blocks loading of dangerous websites, and notifies you if you visit a malicious site.
Will not allow anyone to track your activities on the Internet.
The license is valid for 1-year Adguard Premium, valid for 2 computers and 2 mobile devices. A US$ 39.95 value!
Gift 2: Folder Marker Home – Organize your files

Folder Marker lets you mark your folders with color-coded and image-coded icons with one mouse click, which makes them easy to find and retrieve. Furthermore, it protects valuable information from accidental removal and highlight important folders that must not be removed. It's the perfect download for any home user who needs a little extra boost getting your files in order!
Features include:
M

ark folders by

priority

(high, normal, low), by

degree of work complete 

(done, half-done, planned), by work status (approved, rejected, pending) and by

the type of information

contained in a folder (work files, important files, temp files, private files).

M

odify the 'Mark Folder' menu.

You can have your own menu with your own icons, specially made for your personal needs.

Change a folder's color

. For this purpose you have

36 icons

of normal, dark and light colors.
The license is valid for the Folder Marker Home Edition, valid for 1 computer. A US$ 24.95 value!

Offer available for both Emsisoft Anti-Malware and Emsisoft Internet Security
This special offer is available for both Emsisoft Anti-Malware and Emsisoft Internet Security. In case you're new to our products, here's a quick recap on how to decide between the two: Emsisoft Anti-Malware is a complete antivirus and anti-malware program that protects your PC from all malware threats, including viruses, spyware, ransomware, bots, adware, worms and trojans. It uses 3 layers of protection: web protection, file guard and behavior blocker. Emsisoft Internet Security adds a strong firewall on top of that, and therefore is a perfect fit for home users and small business owners, who frequently travel beyond their home network. Both products include online banking protection and detection of potentially unwanted programs (PUPs).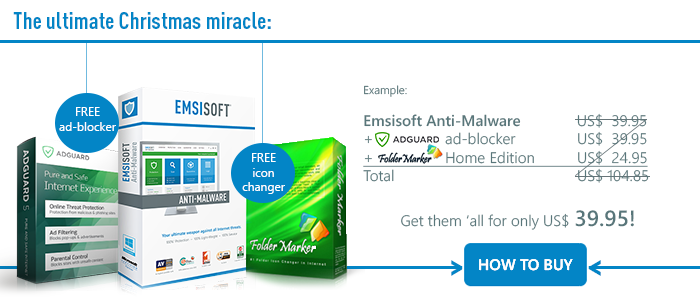 3 premium products for the price of 1: Save up to 63% with this special!
This special has a total value of almost US$ 105! Your two complimentary gifts will be added to your cart automatically in our online store when you buy or renew Emsisoft Anti-Malware or Emsisoft Internet Security. After checkout, you will receive instructions on how to download and activate your license for each product. Get this limited-time offer now before we run out of stock!
Download now: Emsisoft Anti-Malware free trial.
Antivirus software from the world's leading ransomware experts. Get your free trial today.
Try It Now
On behalf of the entire Emsisoft team, we wish you a very joyous (malware-free) Christmas and a wonderful new year!