AV-Comparatives names Emsisoft Anti-Malware top-rated product of the year!
February 7, 2017

3 min read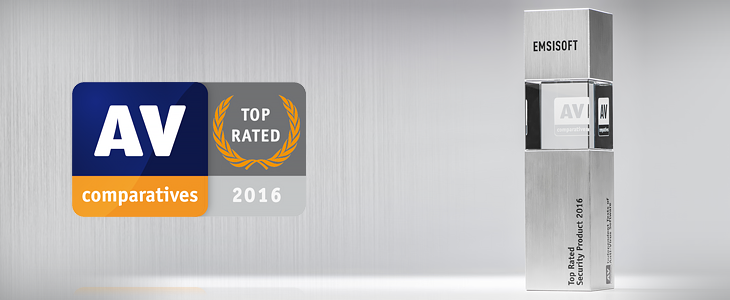 As in previous years, AV-Comparatives, a renowned independent testing organization of security products, released their annual report rating various anti-malware products tested throughout 2016. We are delighted to announce that Emsisoft Anti-Malware is ranked as a Top Rated Product with four Advanced+ awards won over the course of the last 12 months. In addition, Emsisoft received a joint Silver Award for File Detection, and joint Bronze for Performance.
Throughout 2016, AV-Comparatives subjected 19 security products for Windows to rigorous investigation, including Emsisoft Anti-Malware. All the programs were tested for their ability to protect against real-world Internet threats, identify thousands of recent malicious programs, provide protection without slowing down the PC, and remove malware that had already infected a PC using the following tests:
Real-World Protection Test – Emsisoft Rated Advanced
Performance Test – Emsisoft Rated Advanced+
File Detection Test – Emsisoft Rated Advanced+
Malware Removal Test – Emsisoft Rated Advanced 
Emsisoft rates high in detection rates with low system impact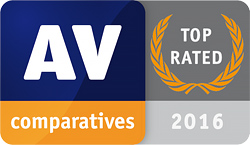 To be considered an AV-Comparatives Top Rated Product, the tested software had to score consistently high in both file detection and performance. Given Emsisoft's relentless focus on keeping you protected without slowing you down, this award is an acknowledgement of these efforts.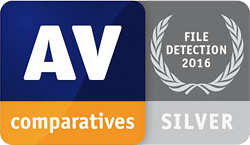 The File Detection Test evaluates the scanning ability of a product. You can learn more about our award-winning dual-scanning technique here.
A high detection rate of malware – without causing false alarms – is one of the most important and reliable features of an anti-virus product. Why? It proves the accuracy of a product to detect malware without making unnecessary errors and wasting your time.
The Low System Impact Test makes sure that anti-malware solutions run efficiently in the background without slowing down your system. For the test, security products must remain turned on under all circumstances, while users are performing their usual computing tasks. Some products had a higher impact than others on system performance while performing some tasks. AV-Comparatives specifically highlighted:
"Emsisoft demonstrated a lower impact on system performance than other products."
Beyond performance, it's important for us that our customers find the Emsisoft product experience effortless and a pleasure to use. AV-Comparatives seemed to think so in their report:
"We liked Emsisoft's informative setup wizard, and the very clean and modern interface design."


We are very happy to be rated so highly in these categories. Efficiency with no bloat has always been one of our top priorities and the advanced+ awards we received this year clearly reflect that. As we look to 2017, we would be thrilled to see a new category for ransomware protection as part of the AV-Comparatives' tests, as it would reflect the rising threat of ransomware (and because we're confident we'd do very well 😉).
However, while positive test results are great to have, Emsisoft's goal is to keep customers protected from real-world threats, such as ransomware, rather than optimising our products for testing authorities. So as in previous years, our goal remains clear: providing you with the best possible protection without slowing you down.
Malware doesn't sleep, and nor do we.
For further information on the features and protection provided by Emsisoft Anti-Malware, visit this page.
AV-Comparatives: industry leaders in independent testing
AV-Comparatives is an independent organization and highly reputable testing authority. Their tests check whether security software, such as PC-based antivirus products and mobile security solutions, live up to their promises. To be highly-rated by AV-Comparatives is to be highly recommended to the industry and customers alike.
You can compare our AV-Comparative results in all testing conditions with competing software providers, see our performance test results from past years, or read the full report from AV-Comparatives here (English).
You can also see our many other accolades here.
Protect your device with Emsisoft Anti-Malware.
Did your antivirus let you down? We won't. Download your free trial of Emsisoft Anti-Malware and see for yourself.
Start free trial
Have a great (malware-free) day!