Emsisoft awarded Advanced+ in AV-Comparatives performance test

For the fifth time in a row, Emsisoft Anti-Malware was rated as 'Advanced+', the highest award possible, in AV-Comparatives' latest performance test of anti-malware solutions.
Tested in May and released in June 2017, a total of 21 security vendors participated in the test. AV-Comparatives performed the following basic computer activities on an up-to-date Windows 10 64-bit computer system:
File copying
Archiving/ unarchiving
Installing/ uninstalling applications
Launching applications (office documents and PDF files)
Downloading files
Browsing websites
Emsisoft Anti-Malware observed 'fast' or 'very fast' scores in 7 of the 8 main categories, slowing down only on the very first launch of a new application (we want to make sure we thoroughly scan new files to ensure you the protection you expect from us).
Please note that the performance test only tells you how much impact a security product may have on a system compared to other security products; it is not a measure of protection capabilities.
You can read the full AV-Comparatives performance report here.
Emsisoft: Trusted malware protection that doesn't slow you down
Receiving the highest award for the fifth time in a row underlines our commitment to protect you from all types of malware without impacting your system unnecessarily. But at the end of the day, what matters to us is not a shiny little award badge, but the opinion of our customers.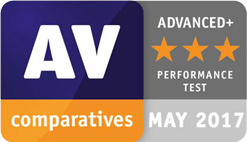 Want to experience the power of Emsisoft protection yourself? Try out Emsisoft Anti-Malware today with our 30-day FREE trial.
About AV-Comparatives
AV-Comparatives is an independent organization and highly reputable testing authority. Their tests check whether security software, such as PC-based antivirus products and mobile security solutions, live up to their promises. To be highly-rated by AV-Comparatives is to be highly recommended to the industry and customers alike.