New in 2017.7: Forensic Log and Auto-resolve mode for Behavior Blocker alerts
August 1, 2017

3 min read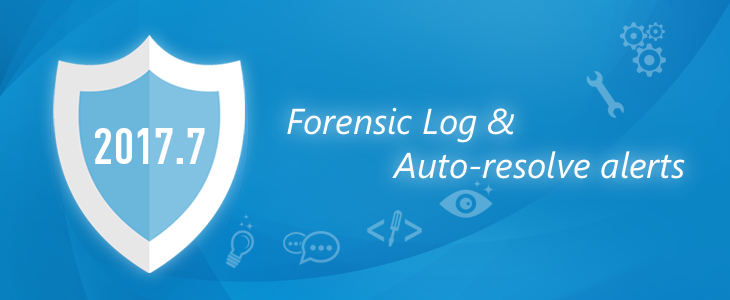 New Forensic Log: A timeline to reproduce what happened
Do you remember the details of every single interaction you had with your malware protection software?
Of course not.
Whether it's the wording of a particular alert or notification, or trying to recall what exactly you clicked on, it's almost impossible to mentally keep track of every single malware-related event and what actions you took in the heat of the moment. To address this problem, we've introduced a new feature that we call Forensic Log, a condensed timeline that shows all events and user actions of Emsisoft Anti-Malware and Emsisoft Internet Security in an easy to read form.
The Forensic Log allows you to:
Reproduce exactly what happened and when. It puts all events from all areas of the software in a chronological order.
See all alerts of suspicious websites and programs and how they were dealt with, either by the user or by automatic actions.
See when malware scans were started and finished, along with all infections that may have been found.
See which settings have been changed and when.
See when online updates and scheduled scans were triggered by the scheduler.
Search the entire log flexibly for any keyword by using the live-search box.
Submit an entire timeline to customer support to analyze any issues that you may have.
New Auto-resolve mode for Behavior Blocker alerts
We get a lot of queries about whether it would be possible for our software to automatically deal with all Behavior Blocker alerts, as many users feel they're not up to making the right decision on alert windows that look technically complex. We've listened to your feedback and decided to go one step further by not only providing a recommended action on those alerts (allow or quarantine an alerted program) but also offering a new Auto-resolve option for the Behavior Blocker that makes decisions all on its own.
Do note that even with Auto-resolve enabled, you are still in full control! Behavior Blocker may occasionally block good programs if their behavior patterns look similar to those of malicious programs, so we implemented the Auto-resolve mode in a way that still allows you to jump in and decide differently if needed.
Please note that the new Auto-resolve mode is enabled by default. You can still switch back to large alert windows with more details in the "Protection" > "Behavior Blocker" panel.
All 2017.7 improvements in a nutshell
New Forensic Log to reproduce all actions that happened in the software.
New Auto-resolve mode for Behavior Blocker alerts.
Fixed a bug that showed the scanner result window in scheduled scans even if silent mode was enabled.
Several minor tweaks and fixes.
Improved: Deployment dialog now also shows IP addresses in Active Directory networks.
Improved product stability and general fine tuning.
Fixed: Certificate issues that led to connectivity errors.
Several minor tweaks and fixes.
How to obtain the new version
As always, so long as you have auto-updates enabled in the software, you will receive the latest version automatically during your regularly scheduled updates, which are hourly by default. New users please download the full installer from our product pages.
Note to Enterprise users: If you have chosen to receive "Delayed" updates in the Update settings for your clients, they will receive the new software version no earlier than 30 days after the regular "Stable" availability. This gives you time to perform internal compatibility tests before a new version gets rolled out to your clients automatically.
Protect your device with Emsisoft Anti-Malware.
Did your antivirus let you down? We won't. Download your free trial of Emsisoft Anti-Malware and see for yourself.
Start free trial
Have a great (malware-free) day!