Emsisoft receives top award in Malware Protection Test
October 20, 2017

2 min read

Independent antivirus software testers AV-Comparatives recently released the results of their September Malware Protection Test. Guess who walked away with the highest accolade possible?
Emsisoft scores highly on protection rates
AV-Comparatives' Malware Protection Test is a rigorous assessment that pits security software products against more than 20,000 recent and prevalent malware samples. Using strict testing methodologies, AV-Comparatives is able to see how well a security program can protect a system before, during and after a malicious file is executed.
We're proud to announce that, even in the face of such stringent testing, Emsisoft Anti-Malware emerged with flying colors and was granted the Advanced+ Award.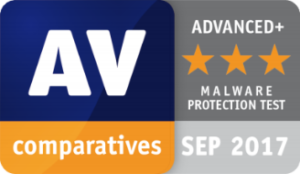 To be considered for this top award, products had to score highly in two key categories:
Protection rate
In years gone by, AV-Comparatives relied on detection-only tests to judge a product's effectiveness. While detection is still an important part of the testing process, this year the organization also introduced a protection element, which evaluates how well a product can prevent a malicious program from making changes to the target system.
Emsisoft excelled in this department, scoring a fantastic protection rate of 99.99 percent.
False positives
To assess file detection capabilities, AV-Comparatives also subjected the products to a false alarm test to evaluate how effectively they could distinguish good files from malicious ones.
Emsisoft produced just six false alarms, while others flunked out completely with as many as 274 false alarms!
We're not in it for the glory, but we're very happy to be recognized by AV-Comparatives for our efforts in combating malware. We'll continue to strive to provide you with the best lightweight malware protection on the planet.
AV-Comparatives
AV-Comparatives is an independent, Austrian-based organization dedicated to evaluating the effectiveness of security products. Drawing from an enormous database of malware samples, AV-Comparatives is able to create a structured testing environment that reveals how well antivirus software really performs. The organization is one of the most widely recognized and reputable security software testing groups in the industry.
You can see the full results of the Malware Protection Test September 2017 here or check out our trophy cabinet of awards we've received in the past here.
Have a glorious (malware-free) day!