Reseller renewal coupons make bulk ordering faster and easier
November 1, 2017

2 min read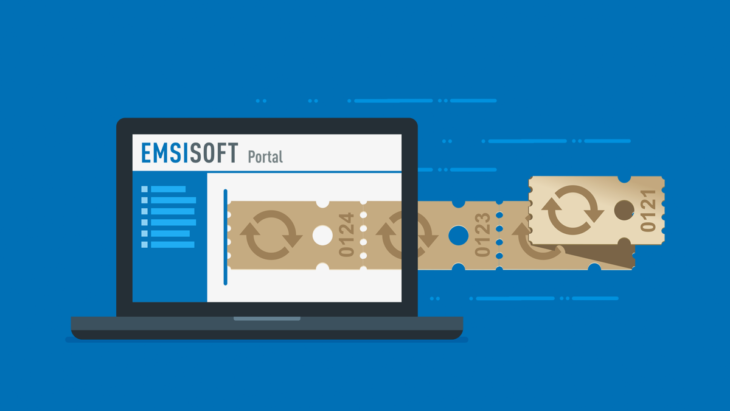 Resellers rejoice: your life just got a little bit easier.
In the past, the only way our partners could renew Emsisoft Anti-Malware licenses was to select them in our Reseller Portal and go through the checkout process for each license individually. While this was perfect for smaller orders, it was a bit tedious for partners who needed to renew several licenses every single day.
As our reseller base expands and demand for Emsisoft licenses continues to grow, we want to ensure our reseller platform meets the evolving needs of our customers.
Today we're delighted to announce the launch of our new and improved Reseller Portal, which is designed to make life easier for our resellers by streamlining the license renewal process.
Introducing bulk renewal coupons
An important part of the Reseller Portal upgrade is the introduction of stock renewal coupons, which can be applied to existing active licenses, allowing you to renew them at any later time. You can buy stock renewal coupons either via the reseller panel's order page (minimum 10 units) or via our international distributors.
Note that if you choose to purchase through a distributor, you'll need to assign the coupons with your reseller account if your distributor hasn't already done so. This can be done with a simple copy/paste at the bottom of the "Manage Licenses" page. After assigning the coupons with your account, they will become visible as "Renewal" in the "Inactive Licenses" list.
How to use renewal coupons
Extending an active license is now faster and easier than ever before. To do so, simply:
Select an active license.
Click the hamburger (stacked lines) menu located on the right side.
Select a "Renew with stock license" option, which will be visible if you have any unused renewal coupons that match the selected key in the "Product" column and the number of seats available.
Done!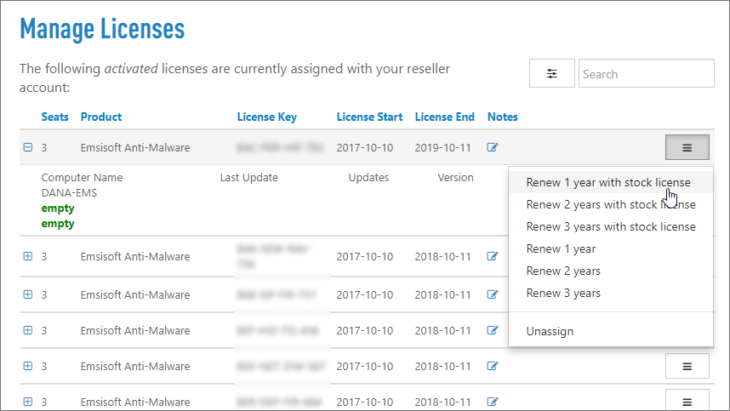 Automation via API
The second way to extend a license with a renewal coupon is by using our public REST API, which can be easily integrated into your own CRM and billing systems. API access is available on request.
Your Emsisoft partner manager will be able to provide API-Key and developer instructions.