Top 10 tech gift ideas for the holidays
December 14, 2017

6 min read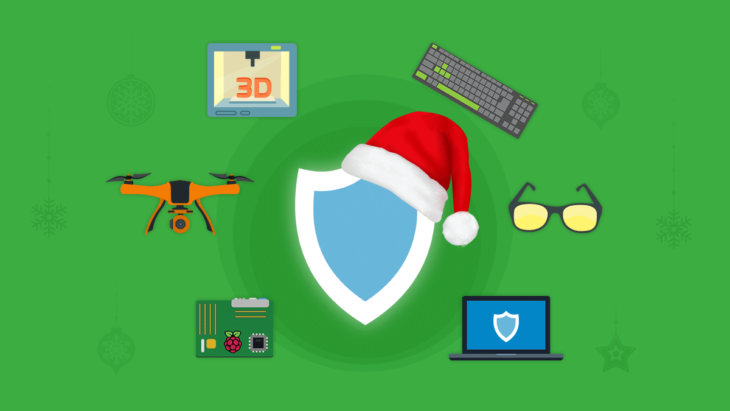 We know from personal experience that buying a gift for a security tech geek can be challenging.
But don't worry – we've got you covered.
We asked around the Emsisoft teams for the coolest gear they'd love to see under their tree this year and put all their answers into one handy list. So, stop stressing, pour yourself an eggnog and check out our top 10 gift ideas for the geek in your life.
(Note: all prices listed are accurate at time of writing but are subject to change).
Roughly the size of a credit card, the Raspberry Pi is the perfect gift – or even stocking filler – for anyone who enjoys tinkering with the innards of a computer. What started out as a project to teach kids the basics of computer science inadvertently sparked something of a revolution as users put the Raspberry Pi to all sorts of unexpected uses, including home automation, retro arcade machines, robotics and a whole lot more.
The latest iteration of the Raspberry Pi with on-bard WiFi and Bluetooth includes some serious performance upgrades over its predecessor, punching just below that of some Chromebooks. Priced at just $35, the Raspberry Pi is sure to put a smile on someone's face this holiday season.
The concept of a $200 keyboard sounds silly – until you actually try one. The Rolls Royce of keyboards, the Corsair K95 RGB is arguably the best mechanical keyboard on the market. Beyond the wonderfully responsive Cherry MX RGB switches, textured WASD keycaps and six macro keys, the main draw of the K95 is its beautiful backlighting. Multi-color LEDs are built into each key and along the top bezel of the keyboard, which allow for near limitless lighting customization.
A fantastic gift for all serious PC gamers.
Nothing ruins the festive season quite like losing your personal data to a computer virus. With more than 640 million malware programs floating around the web, effective antivirus software is a vital component in any IT security setup. Help your loved ones protect their digital assets over the holidays by gifting them an Emsisoft Anti-Malware subscription. Emsisoft Anti-Malware offers robust protection against both known and zero-day threats through the use of advanced behavioral blocking technology.
Wrapped up in a lightweight package that won't put a dent in your system's performance, it's a fantastic choice for tech heads who value bloat-free antivirus software that doesn't compromise on protection.
It's no secret that starting at a computer screen for hours on end can strain your eyes, but what you might not know is that there is a physical accessory that can help. GUNNAR Glasses are specifically engineered to block the blue light produced by digital screens, thereby reducing eye strain and the associated symptoms.
If you know someone who spends a good chunk of their day plonked it front of a computer screen (i.e. just about all of us), GUNNAR glasses could make for a thoughtful and practical holiday gift.
It wasn't long ago that the use of 3D printers was confined to universities and industrial organizations, but they've steadily become more affordable to the point it's viable to have one in your house. The XYZPrinting da Vinci Mini is proof of that. The consumer-grade 3D printer is a cinch to setup and use and offers surprisingly good print quality given its low price point.
A virtual private network (VPN) securely encrypts your internet connection and allows you to keep your traffic data safe from anyone who might be interested in it – hackers, government censorship groups and so on. While there are hundreds of VPN services available, NordVPN could be your best bet this holiday season. It lets you tap into more than 2,400 servers in locations all around the world and is intuitive to use while still offering enough customization to satisfy most advanced users. NordVPN also offers additional security features such as a browser plugin (compatible with Chrome and Firefox) and an ad blocker for greater peace of mind.
While some smart home devices seem to be smart just for the sake of it, smart home locks actually offer some nifty functionality that really can make your life easier. The August Smart Lock Pro + Connect is one of the best smart home lock setups available and allows you to lock and unlock your door remotely, keep track of who's coming and going, set up keyless entry for home occupants and regular visitors, and more.
Importantly, the August Smart Lock can be retrofitted to work with your existing lock and keys, and won't cause you too many hassles when it comes to installation.
Music plays a central role in many a tech head's life. If you know someone who can't imagine life without music, you might want to consider getting them the Kohler showerhead speaker. With up to seven hours of battery life, the showerhead pumps out both water and sound, syncing up with Bluetooth-enabled devices so that you listen to all your favorite jams whilst in the shower.
Sure, the quality is never going to compete with a dedicated hi-fi setup, but as far as backing music for singing in the shower goes, it doesn't get much better than this.
Drones are on every techie's wish list this year and while there are many contenders competing for the position of top dog, the DJI Mavic Pro might just take the cake. The quadcopter is supremely compact and can easily be held in the palm of your hand, but make no mistake about it – this thing is powerful. Capably of handling speeds of up 40 mph and boasting a 4.3 mile range and a flight time of almost half an hour, the DJI Mavic Pro is a master of the skies.
Meanwhile, a 4k camera stabilized by a 3-axis mechanical gimbal ensures every second of footage is crisp, stable and beautiful. The icing on the cake is the gestural command system that gives the ability to command the drone with a simple wave of the hand.
Want to surprise someone month after month without going to the trouble of doing the shopping yourself? If so, a Loot Crate subscription could be the perfect gift for the geek in your life. Every month, Loot Crate sends out a box of surprise goodies that revolve around gaming, anime or pop culture. Many of the items are exclusives, meaning they're only available to those with a Loot Crate subscription. A Loot Crate subscription truly is the gift that keeps on giving!
Something for every geek
It's not always easy shopping for a tech security geek, but we're confident they'd love any of the items on the list (we sure would, at least!).
What techie gifts are you giving or hoping to receive this holiday season?
Protect your device with Emsisoft Anti-Malware.
Did your antivirus let you down? We won't. Download your free trial of Emsisoft Anti-Malware and see for yourself.
Start free trial
Have a jolly (malware-free) day!