2017 in Review: Ransomware threats and evolving protection
December 29, 2017

7 min read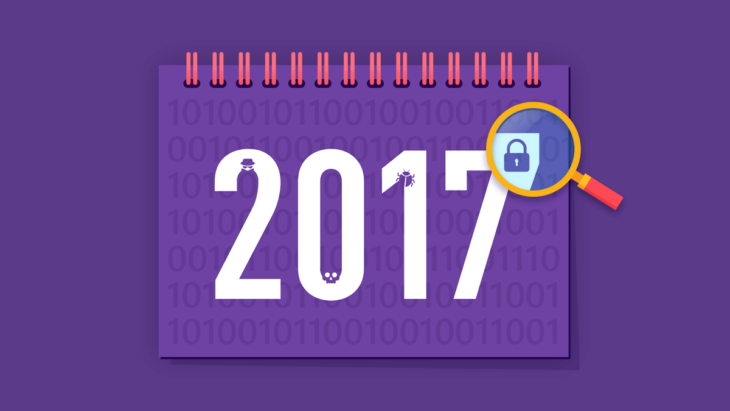 The holiday season is not only a great opportunity to spend time with loved ones, but also to look back at the year gone by. For us at Emsisoft, we could finally take a brief moment to realize just how busy 2017 has been for the team and the wider security industry: from major ransomware outbreaks that took most (Emsisoft customers excluded) by surprise to constant product evolution to guarantee the best possible malware protection for our customers, this year has been anything but uneventful.
Better Web Protection: Both online and in the water
Prevention is worth a pound of cure, so raising awareness of online security issues has always been close to our hearts. Back in November 2016 we started out with the world's first Web Protection research using drones and high technology drifters, teaming up with Surf Life Saving New Zealand to map currents and further understand threats and dangers that await unsuspecting surfers under the surface.
The campaign results exceeded our highest expectations: not only was the project widely covered in media outlets across the country, but the insight gained formed the basis for future projects and was even presented at a conference sponsored by the World Health Organization.
As our CEO Christian Mairoll put it:
Whether online or in the water, Emsisoft always aims to observe dangerous environments, analyze specific threats and most importantly prevent dangerous situations that surfers suffer from everyday.
Ransomware outbreaks take many by surprise
Ransomware attacks are nothing new for our team, but the sheer size and speed of two major outbreaks this year caught many off guard. In May, Wannacry ransomware took advantage of the NSA shadow broker exploits to rapidly spread to hundreds of thousands of machines, including major corporations in Europe and beyond.
A mere month later, Petya used the same exploits to wreak havoc across high-profile businesses in dozens of countries and exposed, despite repeated warnings from security experts, the general lack of basic protective measures, including up-to-date operating systems, regular backups and the use of reputable anti-malware software.
Our customers were safe from these attacks thanks to Emsisoft Anti-Malware's multi-layered protection. Yet it's events like these that remind us of the need to constantly improve our technology and awareness to stay one step ahead of cybercriminals.
Emsisoft evolves to stay ahead of malware
Malware attacks of this nature require an immediate response. Luckily, one of our main advantages over many competitors is our ability to adapt quickly. Starting in January, we introduced a new product versioning scheme that aligns with our development month and laid the foundation to bring protection and usability features to our customers faster than ever, rather than waiting for a major release.
Making great protection even better
Our customers choose Emsisoft first and foremost for one reason: to be protected from all types of malware threats. It's a job we take seriously, which is why we have launched a number of improvements throughout 2017. Our personal highlights:
This doesn't include the countless under-the-hood changes to the Surf Guard to detect even more phishing scams and the performance improvements we have launched month after month to ensure your protection does not get in the way of your day.
Keeping things simple
Simplicity is one of our core values here at Emsisoft, and the product team made it a clear focus to deliver against it in 2017. We looked at all aspects of our software and listened to a lot of customer feedback to learn how we can make things better, faster, and simpler. The result was a raft of new and improved features that we released over the last 12 months, including:
a simplified user permissions system based on 2 groups;
a brand-new feature to exclude specific programs from scanning and protection;
an extended Forensic Log to better reproduce malware-related events on your machine;
an auto-resolve mode for the behavior blocker to reduce user-dependencies;
email notifications.
Merging Emsisoft Internet Security with Emsisoft Anti-Malware
But perhaps the biggest change in terms of our product development has been the merging of Emsisoft Internet Security with Emsisoft Anti-Malware in October this year. What may have seemed like a sudden decision was the result of a careful evaluation of our core competencies, the realities of a changing malware landscape and the preparation for things to come. To ensure customers dependent on a firewall would receive a comparable level of protection, we released a Fortification feature for the Windows Firewall to ensure that malware will not be able to tamper with it.
Business-grade security that just works
As we've touched on earlier, this year in particular exposed just how devastating ransomware attacks can be for companies both large and small if they do not have reliable endpoint protection in place. We always believed that sophisticated, enterprise-level endpoint protection does not need to be complex, and we have continued to refine the experience of our business customers, whether that's enhanced Emsisoft Enterprise Console connection features or new MSI setup files for time-efficient group policy deployment in larger Windows networks.
Our efforts did not go unnoticed either, as independent test lab AV-Comparatives praised our business solution for its ease of use, clean design and fast deployment capabilities in this year's Business Security Report 2017. Combined with a stellar malware protection rate powered by Emsisoft Anti-Malware, we walked away with the "Approved Business Product Award" for the second year running.
The feedback that counts: yours
While it's great to get recognized with industry awards for our malware protection performance, it's the messages we receive from our customers and partners that put a smile on our faces and give us the motivation to get up in the morning to fight the good fight.
I wanted to take a moment of your time and let you know that there just isn't a better anti-malware company than Emsisoft. Your dedication to the world of online protection is the best in the business. I have 100% confidence in Emsisoft to keep me safe on line no matter what. It's just something I never have to think about.
Joel Gardner, Switzerland
Emsisoft is about security. Looks good, works good, is light and what is most important, Emsisoft is about trust. My is over 8 years as paid customer, without any single security PC problem.
Franky via Twitter
Another gold star for Emsisoft! I've been with you since a-squared, and it's always
been prompt, professional and excellent service all the way, not to mention the superb software solutions. These days, companies that care are unfortunately few and far between.
Douglas Sharp, Germany
I own a brick and mortar retail computer repair shop. We have sold hundreds if not thousands of copies of Emsisoft through our retail business. I have to say Emsisoft works so well that I feel like it may be hurting our repair business. Our customers like it and that's what matters.
David Gentry, Lantean Systems LLC, USA
What lies ahead in 2018?
Ransomware once again dominated the year, and we are expecting this trend to continue into 2018. Wannacry and Petya attacks made sure that even the most technophobic among us have at least a basic level of awareness. But they also laid bare the ample opportunities for cyber crime as too many business still don't have credible security strategies in place.
We covered the emergence and increasing sophistication of Ransomware-as-a-Service (RaaS) business models, allowing anyone with malicious intentions to execute their own ransomware attack and share the ill-gotten gains with the RaaS creators. Given the ease of using these services and the proliferation of cryptocurrencies, we at Emsisoft expect the ransomware campaigns to continue unabated into the new year.
The other trend to keep an eye on is also connected to the rise of digital currencies: Cryptomining. Online criminals and even some "legitimate" websites are experimenting with the use of crypto-miners to extract revenue from users. Whether it will evolve into a legitimate alternative to the established ad model or remain mostly a tactic by malware authors remains to be seen. Whatever the outcome, as long as cryptocurrencies continue to rise, we expect to come across increasingly sophisticated variants.
But what will Emsisoft look like in 2018?
We plan to continue our efforts to declutter Emsisoft Anti-Malware to make it the easiest to use protection software on the market. Our Malware Lab is working relentlessly on a new malware detection and protection system that is going to raise the bar in the industry. In addition, our product development teams have started working on a major project a couple of months ago that is expected to be launched later this year. We can't wait to share more details as we get closer to the actual release and to hear what you think.
But until then, you can count on Emsisoft to protect you from all the current and future threats that may lurk out there. Malware never sleeps, and nor do we.
Download now: Emsisoft Anti-Malware free trial.
Antivirus software from the world's leading ransomware experts. Get your free trial today.
Try It Now
Have a brilliant, malware-free 2018!