Emsisoft scores highest award in AV-Comparatives test
January 4, 2018

2 min read
Another day, another award!
Independent antivirus software testing group Av-Comparatives have released the results of their recent Whole Product Dynamic "Real-World" Protection Test and we're happy to report that Emsisoft Anti-Malware has once again received the highest award possible.
"Real-world" protection testing
Unlike some types of antivirus tests that tend to focus on a particular component of security software (typically signatures or heuristic file scanning), Av-Comparatives' most recent experiment took a more holistic approach. The award-winning Whole Product Dynamic "Real-World" Protection Test allows security suites to use any and all protection features (URL blockers, content filters, behavior blockers and more) to prevent infection at any stage of the process. This is intended to reflect the expanding scope of IT security.
To simulate a real-world environment, the AV-Comparatives team compiled an extensive list of test cases made up of 1,769 malicious websites and malware that currently pose a risk to ordinary users. Every security product was installed on an internet-connected test computer, which was manually updated every day, and every antivirus suite was updated before being subjected to the malware. Testing took place between July and November 2017, and the results have just recently been released.
Emsisoft walks away with the top award
We are delighted to see that our flagship product was more than up to meeting the demands of the challenging test environment. Not only did Emsisoft Anti-Malware achieve an impressive 99.1 percent protection rate, it also excelled in the false alarm component of the test, which is a critical part of delivering a smooth user experience. With a false positive rating of just 11 (lower is better), Emsisoft came in well below the average of 18 and was miles below some products that raised as many as 132 false flags during testing.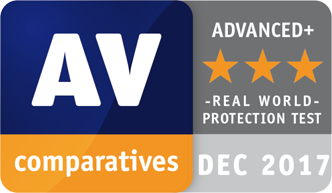 Ultimately, scoring strongly during the protection and false positive testing helped Emsisoft Anti-Malware earn the highest accolade possible – the AV-Comparatives Advanced+ Award for the Real-World Protection Test December 2017.
We're not in it for the glory but, as always, we are proud to see our products receive recognition for their protection capabilities. Regardless of the awards we win, we'll always strive to provide our customers with industry-leading protection.
About AV-Comparatives
AV-Comparatives is an independent, Austrian-based group that specializes in assessing antivirus software. The organization regularly releases detailed reports to provide consumers with the information they need to make an informed decision when it comes to choosing a security suite. The AV-Comparatives Real-World Protection Test is widely regarded as one of the most comprehensive tests of its kind. Suffice to say, products that score highly on this test can safely be trusted to provide high-quality protection against a variety of digital threats.
Get the full details of the July-November 2017 Real-World Protection Test here, or hop over to our awards page for a glimpse of some of the other accolades we've won in the past.
Have a brilliant (malware-free) day!