Emsisoft awarded VB100 certification in latest Virus Bulletin test
January 16, 2018

2 min read
The good people over at Virus Bulletin, an information security portal and antivirus testing group, recently announced the results of their latest VB100 Comparative Review. We're happy to report that Emsisoft Anti-Malware was awarded the VB100 certification!
Qualifying for VB100 certification
Unlike other antivirus tests that have tiered awards depending on a product's performance, there are no silver or bronze medals when it comes to the VB100 – you either get the certification or you don't. To qualify for VB100 certification, an antivirus product has to be able to:
Block ALL files on the WildList. The WildList is Virus Bulletin's regularly updated and carefully curated list of known malicious software that has been seen in the wild.
Generate zero false positives. The Virus Bulletin team put together a set of 450,000 benign files taken from widely used programs. If an antivirus product incorrectly detects any of the files as malicious, it is ineligible for VB100 certification.
The latest round of testing took place on systems running clean, fully updated installations of both Windows 7 and Windows 10. Throughout the testing, all products had internet access to allow for cloud-based scanning, apart from during the 'reactive and proactive' component of the test, which measures how effectively a product can proactively detect malware when disconnected from the internet.
Emsisoft Anti-Malware awarded VB100 certification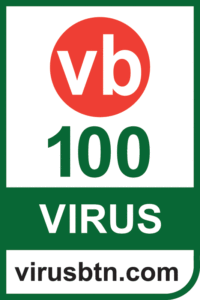 Emsisoft Anti-Malware was more than up to the challenge and kept the test environment spotlessly clean of all digital threats. On both Windows 7 and Windows 10, our flagship product detected every piece of malware on the WildList while generating no false positives, thereby qualifying Emsisoft Anti-Malware for VB100 certification!
We're proud of this achievement and happy to see further proof that Emsisoft Anti-Malware is capable of delivering high-level protection in the real world as well as in stringent testing environments such as the one created here by Virus Bulletin. Our goal will always be to provide an efficient product that makes no compromises when it comes to protecting our customers' PCs.
About Virus Bulletin
Virus Bulletin is a UK-based organization that specializes in independent antivirus product software testing while also providing a hub for all things information security. The VB100 certification initiative has been running for 20 years and provides detailed information to help buyers make a more informed decision when it comes to selecting an endpoint security solution. The VB100 certification has come to be seen as a mark of quality; a product that is VB100 certified can be considered trustworthy and capable of providing reliable malware protection.
Click here to check out the full Virus Bulletin report or click here to have a browse through our digital trophy cabinet of awards we've won in the past.
Download now: Emsisoft Anti-Malware free trial.
Antivirus software from the world's leading ransomware experts. Get your free trial today.
Try It Now
Have a magnificent (malware-free) day!