Emsisoft Receives VB100 Certification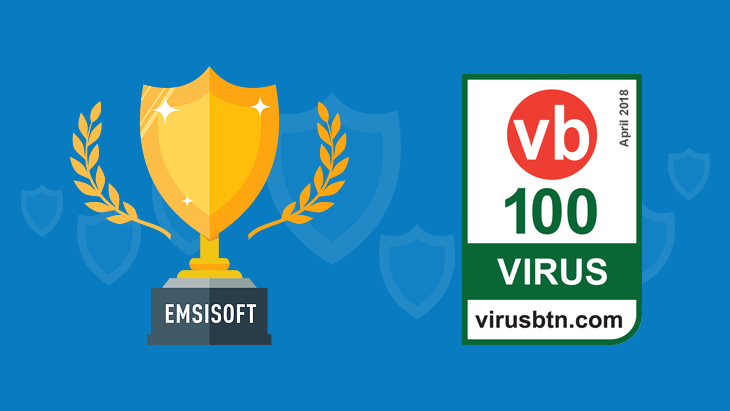 Fresh from our March 2018 AV-Comparatives Malware Test Advanced+ Award, we're happy to announce that this April, Emsisoft is yet again named a recipient of the coveted VB100 Certification!
The VB100 Certification
The VB100 certification is a highly sought-after designation due to its rigorous and unbiased evaluation of antivirus security programs. The VB100 certification tests are performed bi-monthly throughout the year by Virus Bulletin, a UK-based organization independently testing antivirus software for more than 20 years.
The test not only evaluates the ability of antivirus and anti-malware software programs to perform at a minimum standard, but also its consistency to protect and adapt effectively in the long term. It features a "Reactive and Proactive" (RAP) test that measures how quickly security programs detect new malware. The RAP Score gives a good indication of how quickly the security program detects new malware statically.
The VB100 Certification Methodology
For the April 2018 test, Virus Bulletin outlines the following criteria to qualify for a VB100 certification:
Detect 100% of malware samples listed as 'In the Wild' by the WildList Organization
Generate no false positives when scanning an extensive test set of clean samples
The methodology also stipulates that the product must be tested "out-of-the-box" with its default settings. Currently, the test is run on two platforms: Windows 7 and Windows 10.
The Emsisoft VB100 Certification
Emsisoft performed exceptionally well with a 100% malware detection rate and zero false positives in both Windows 7 and Windows 10 test platforms; and achieved an above average 89.4% RAP Score among other programs that also passed the test. This is Emsisoft's second VB100 Certification for 2018.

Why This Certification Matters
As a minimum, your antivirus and anti-malware program should protect you from all types of malware, defend your PC online and offline, and perform its job consistently day in and day out from existing and emerging threats. Malicious hackers and malware are constantly looking for ways to attack you, and you want malware protection that puts you in a position of security and peace of mind.
The VB100 Comparative Test allows you, the consumer, to evaluate which antivirus and anti-malware programs are capable of providing effective malware protection that would best serve you and your needs.
Emsisoft has consistently performed well in VB100 certification tests, and our team is working diligently to maintain this designation for our customers. Our latest 2018.4 software update features improved Behavior-based malware detection and support for Windows 10 Redstone 4 (RS4) Update.
About Virus Bulletin
Virus Bulletin is a UK-based organization independently testing antivirus software, gateway web traffic filters, and email security for more than 20 years. Their VB100 Certification for antivirus software is highly regarded in the cybersecurity industry.
Learn more
Click here to read the April 2018 Virus Bulletin Comparative Review in full. We also invite you to click here to learn more about our previous VB100 certifications and other awards.
Protect your device with Emsisoft Anti-Malware.
Did your antivirus let you down? We won't. Download your free trial of Emsisoft Anti-Malware and see for yourself.
Start free trial
Have a certifiably awesome (malware-free) day!