The Redesigned Emsisoft Referral Program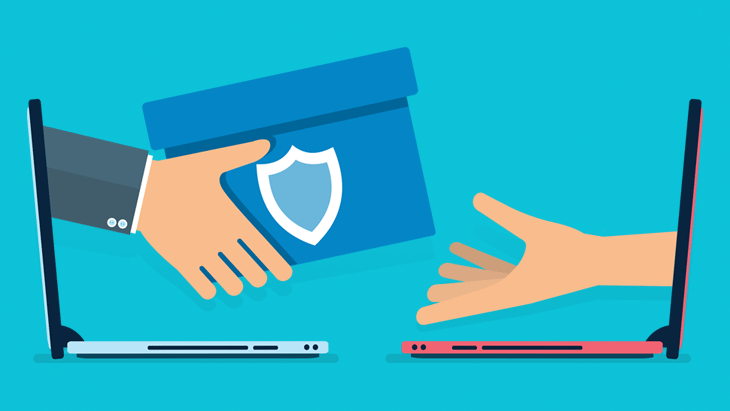 We're excited to introduce our redesigned referral program to make it easier and faster to get rewards. As one of our happy customers, we need you to help us spread the word about Emsisoft. In return, for every referral who joins Emsisoft and buys a full license, we'll automatically extend your license by six months!
Update: The referral rewards program has ended as of March 1, 2021
Here's how it works:
Step One: Sign in to your Emsisoft Account
Login to your MyEmsisoft account to get the referral link to share with your family and friends.
Step Two: Try and Buy
Your family and friends try and buy Emsisoft using your referral link.
Step Three: Get Rewards
You get your license extension automatically! You get six months of free extension for every successful referral.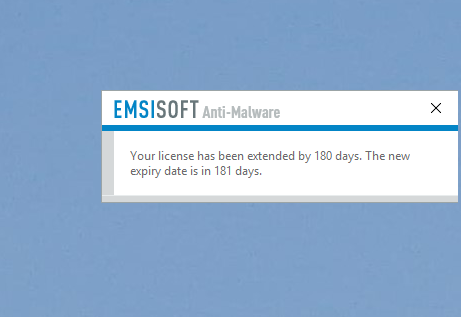 Creative ideas to spread the word
Via email
Send an email to your family and friends. Be sure to include a description of Emsisoft Anti-Malware, why you recommend it, and your unique referral link. Avoid making it spammy! This isn't a sales pitch so much as the opportunity to help your friends protect themselves against malware, and the more personal the message, the more likely they will show interest. But please: avoid automatic mass emails. Sending spam is strictly prohibited!
Via Social Media
Facebook
Tell your Facebook friends how well Emsisoft protects your computer and why you prefer our solutions over other anti-malware or antivirus programs. Don't forget to attach your unique referral link!
LinkedIn
LinkedIn is a great place to reach your professional network. What better way to help your fellow professionals get malware protection at home and at work than to recommend Emsisoft? Post your referral link on your timeline and in the groups you belong to.
Twitter
Emsisoft constantly publishes malware news. Use this as an opportunity to not only spread cybersecurity awareness but also extend your license. Simply retweet our articles, mention your favorite Emsisoft product and include your unique referral link. Use the hashtags #antivirus and #antimalware strategically to maximize exposure.
Other Social Media Profiles
Do you have other profiles specific to your industry or your hobbies such as Dribbble, Good Reads, Pinterest, About.me and more? Why not mention your link there as well!
Your own website or blog
If you have your own website or blog, use this as an opportunity to write a post on how you stay safe online or maybe even just put a line or two on your "About Me" page. Here are some great images you can use when posting.
Forum signature
Have strong forum cred? If you're active in a particular forum and you've established yourself as a trustworthy contributor, you might never need to pay (or at least not for a while) for Emsisoft again. The fastest and easiest way to get your link some exposure is to add it to your signature. Voila! Your unique referral link will show up in all your posts, past and present!
Help your family and friends install Emsisoft
Are you your family and friends' de facto PC and anti-malware expert? The next time someone asks for your help, just download the Emsisoft Anti-Malware installation file with your ID. Better yet, save the installation file with your ID to a USB stick or CD, and use that to install Emsisoft whenever you encounter an infected computer. Always get their permission first, of course.
How to get started
To get started, open Emsisoft Anti-Malware in your PC, click "License," then click "Get a full version license for free." You will be automatically directed to your personal referral page that has all the information you need to start getting referral rewards, including your personal referral links.
As an Emsisoft customer, your MyEmsisoft account also contains your referral links and a list of your successful referrals in the Licenses panel. If you're managing multiple licenses, visit your MyEmsisoft page to select the license you would like to extend with your referral rewards.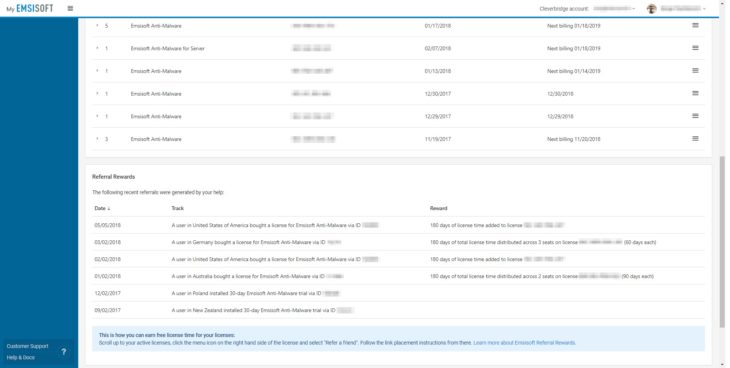 Questions? Suggestions?
Please don't hesitate to reach out if you have any questions. Contact us via [email protected] anytime.
Protect your device with Emsisoft Anti-Malware.
Did your antivirus let you down? We won't. Download your free trial of Emsisoft Anti-Malware and see for yourself.
Start free trial
We wish you a great, malware-free day!