Emsisoft Anti-Malware scores BEST+++ rating in latest AVLab tests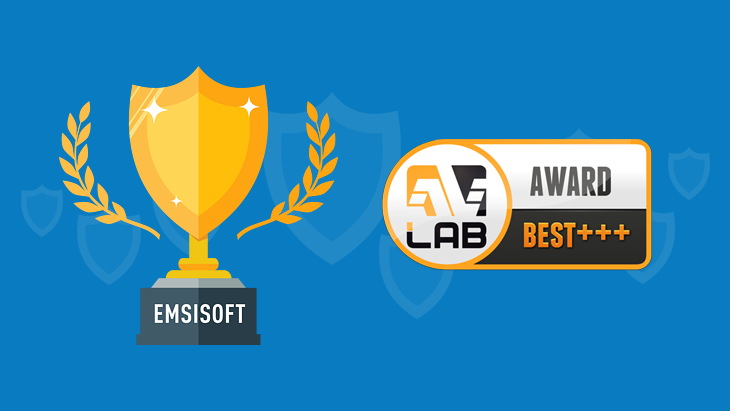 Independent antivirus testing organization AVLab recently released the results of its latest round of tests, which honed in on how effectively security products can protect against three particularly disruptive types of malware. We are delighted to report that Emsisoft Anti-Malware handled the tests with ease and were awarded the highest rating possible in all categories!
Understanding the tests
The tests focused on three key types of malware:
Ransomware: blocks access to your system until a ransom has been paid.
Cryptominers: hijacks your system's hardware and uses it to mine cryptocurrencies.
Bashware: a new technique that uses Windows 10's feature, Subsystem for Linux, to bypass security products.
The tests were carried out between May 7 and May 22, and were performed on a system running Windows 10 Pro x64 with User Account Control disabled. A number of applications were installed on the system to simulate a typical work environment, including an office suite, email client, document viewer and a few other common tools. The operating system was updated once per week under strict controls, and each security product was updated with the latest virus signatures and protection software files before each test.
Emsisoft Anti-Malware makes light work of the threats
We are happy to announce that Emsisoft Anti-Malware was more than up to the challenge and successfully stopped every malware sample dead in its tracks.
Ransomware: Emsisoft Anti-Malware stopped 43/43 samples and was given a BEST+++ recommendation.
Cryptominers: Emsisoft Anti-Malware stopped 35/35 samples and was given a BEST+++ recommendation.
Bashware: Emsisoft Anti-Malware successfully stopped the threat and was given a BEST+++ recommendation.
These results are a testament to the fantastic behavioral protection implemented in Emsisoft Anti-Malware. We're proud to see our flagship product receive the top recommendations from AVLab, and we will continue to strive toward providing the best malware protection on the planet!
About AVLab
AVLab is an independent Polish organization that specializes in testing antivirus products and reviewing security solutions. The group regularly releases reports that offer valuable insight into the effectiveness of various security products. Software that receives a good recommendation from AVLab can generally be trusted to provide a high level of protection.
Get your free trial of Emsisoft Anti-Malware or click here to check out some of the other awards we've won in the past.
Download now: Emsisoft Anti-Malware free trial.
Antivirus software from the world's leading ransomware experts. Get your free trial today.
Try It Now
Have a wonderful (malware-free) day!