Emsisoft Anti-Malware receives Advanced+ Award in latest AV-Comparatives test
October 30, 2018

2 min read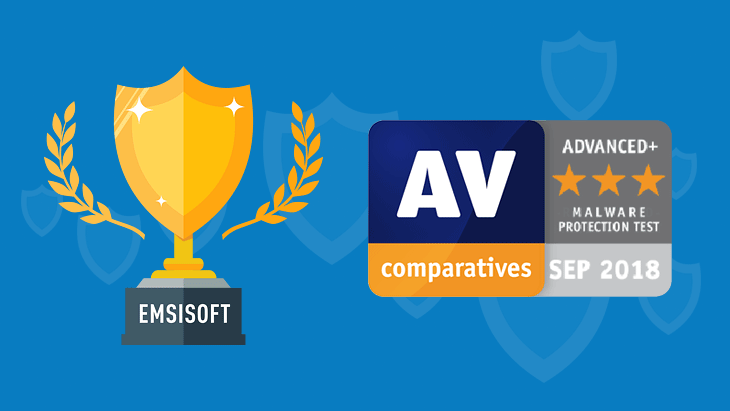 Independent security software testing group AV-Comparatives recently released the results of its Malware Protection Test September 2018, an evaluation designed to assess a product's ability to protect a system against malware infection. We're happy to announce that Emsisoft Anti-Malware delivered robust protection and generated few false positives, which ultimately saw us receive the Advanced+ Award!
What is the Malware Protection Test?
To conduct the test, AV-Comparatives compiled a test set of 11,890 recent malware samples. All security products were installed on a fully up-to-date 64-Bit Microsoft Windows 10 Pro RS4 system, and tested using default settings with all updates installed.
Previous AV-Comparatives tests have focused on whether a product could detect a threat before the malware was executed. The most recent test was slightly different in that it tested a product's overall ability to prevent malware from making changes to a system, regardless of whether it intercepted the threat before, during or after execution. This allowed AV-Comparatives to more accurately measure the protection capabilities of antivirus software that uses behavioral detection to block malicious changes to a system.
Emsisoft Anti-Malware awarded Advanced+ rating
We were proud to see that Emsisoft Anti-Malware blocked 99.95 percent of all tested malware samples and generated just 10 false positives. Based on these results, Emsisoft Anti-Malware was awarded the Advanced+ rating, the highest award possible!
We're delighted to see our software produce great results in tough testing conditions. As always, it's wonderful to receive recognition for our efforts, but the real reward comes from doing our part to help make the digital world a safer place.
About AV-Comparatives
Founded in 1999, AV-Comparatives is an independent organization that specializes in testing security software. The group regularly releases reports that provide valuable insight into the protection capabilities of antivirus products. AV-Comparatives certification indicates that a product can generally be trusted to provide a decent standard of protection.
Click here (opens PDF) to read the Malware Protection Test September 2018 in full.
Protect your device with Emsisoft Anti-Malware.
Did your antivirus let you down? We won't. Download your free trial of Emsisoft Anti-Malware and see for yourself.
Start free trial
Have a great (malware-free) day!