Emsisoft awarded VB100 in June 2019 tests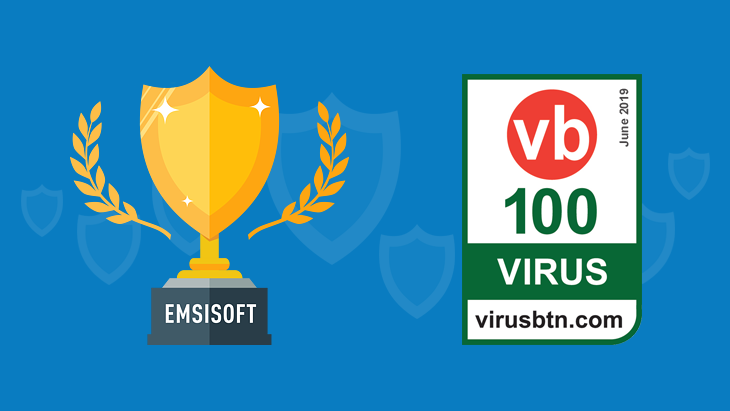 Virus Bulletin is an independent certification body headquartered in the UK. The group recently released the results of its June tests, and we're happy to report that Emsisoft Anti-Malware has once again been awarded the VB100!
The VB100 testing process
The VB100 award certifies that a security product can provide a certain level of protection against modern malware.
To earn the VB100, a product has to pass a range of tests. The tests are performed on a physical computer or virtual machine with specifications similar to those you would find on a typical business PC.
During the tests, the security products are exposed to a few thousand malicious samples curated from various places, including:
The WildList set: A set of well-vetted malware samples curated by the WildList Organization.
The AMTSO RTTL set: A continuous feed of new samples collected by experts from around the world and stored by the Anti-Malware Testing Standards Organization.
The Diversity set: A set of samples collected by Virus Bulletin.
The tests also include a false positive component, which is designed to test how effectively a product can distinguish malicious files from safe files. The products are exposed to a subset of 100,000 files taken from the Clean set, which is a collection of 400,000 benign files harvested from popular software downloads.
To be awarded VB100 certification, a security product has to meet the following criteria:
Detect at least 99.95 percent of the malicious samples.
Identify no more than 0.01 percent of the clean samples as malicious.
The results
We're delighted to announce that Emsisoft Anti-Malware flew through the test and was consequently awarded the VB100. Our software achieved a perfect score in all categories, detecting 100 percent of the 2,236 malware samples used in the tests while generating no false positives.
About Virus Bulletin
Virus Bulletin is a widely recognized name in the antivirus industry. For more than 20 years, the organization has been performing independent tests that offer important insight into the capabilities of antivirus software. The VB100 signifies that a product is legitimate and can generally be trusted to provide a certain level of protection against malware.
Protect your device with Emsisoft Anti-Malware.
Did your antivirus let you down? We won't. Download your free trial of Emsisoft Anti-Malware and see for yourself.
Start free trial
Click here to see the full report, or click here to have a look at some of the other awards we've won in the past.