Emsisoft Business Security awarded Best+++ badge in CheckLab's July 2019 tests
September 11, 2019

2 min read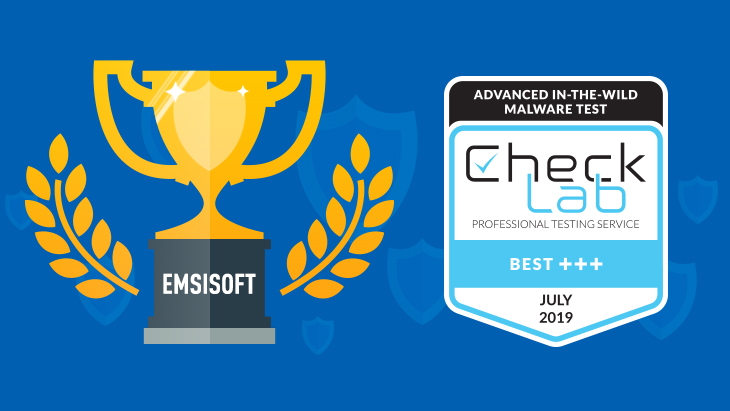 CheckLab is a new security software testing organization founded by the well-known company AVLab. In July 2019, CheckLab ran the first edition of its "Advanced in the Wild Malware Test," and we're happy to announce that Emsisoft Business Security was awarded the Best+++ badge!
How does CheckLab perform the tests?
Malware is a significant threat to modern businesses. Failure to detect and stop a threat can potentially result in costly downtime, recovery and reputation loss. The Advanced in the Wild Malware Test can help business owners and IT professionals make a more informed choice in regards to their choice of security software.
The test involved evaluating the protection capabilities of eight business-grade security solutions. To perform the test, each security product was installed on a system running Windows 10 Pro x64 with user account control disabled. A number of typical business applications were also installed on the system, including an office suite, email client, document browser and a few other tools.
The security products were then exposed to almost 1,000 carefully vetted malware samples, and were awarded one of three badges depending on how well the protected the system:
Best+++: at least 99% detection
Best++: at least 95% detection
Good+: at least 90% detection
Results
We're delighted to report that Emsisoft Business Security excelled in the tough test conditions and successfully blocked 100 percent of the malware samples. As a result, Emsisoft Business Security was awarded the Best+++ badge!
Click here to see the full report or here to check out some of the awards and certifications we've won in the past.
Protect your device with Emsisoft Anti-Malware.
Did your antivirus let you down? We won't. Download your free trial of Emsisoft Anti-Malware and see for yourself.
Start free trial
About CheckLab
CheckLab, a division of AVLab, is a new independent security software testing group. The organization specializes in testing the capabilities of security products in conditions that are designed to simulate real-world attacks. CheckLab plans to regularly release detailed reports that offer users valuable insight into the effectiveness of many security products available on the market.