Emsisoft scores 100% in CheckLab's Advanced In The Wild Malware Test
August 31, 2020

2 min read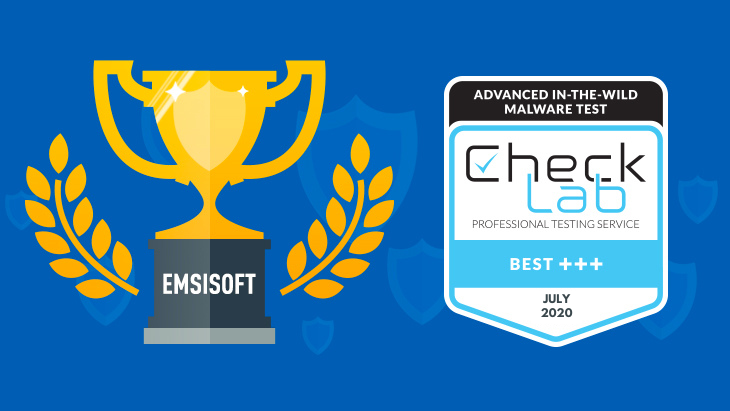 Founded in July 2019, CheckLab is an independent organization committed to testing the protection capabilities of antivirus products. The company recently released the results of its 8th edition of the Advanced In The Wild Malware Test and we're happy to report that Emsisoft Business Security once again nailed the test!
How CheckLab performs the tests
The tests were carried out on systems running Windows 10 Pro x64 with user account control disabled. The test environment included a range of software typically found on a business workstation, including an office suite, document browser, email client and so on.
To conduct the test, CheckLab collected widespread, fresh and diverse malware samples using a network of honeypots, a system that simulates a vulnerable target and allows researchers to capture malicious software. The samples were then analyzed to ensure they were definitively malicious.
The tested security products were updated once a day before the tests were performed and given Internet access for the duration of the tests. The products were then exposed to 1,456 malicious software samples, including banking trojans, ransomware, backdoors, downloaders, macro viruses and more.
Results
Emsisoft Business Security flew through the test, successfully detecting and blocking 100 percent of the 1,456 malware samples.
Click here to see the full report or here to check out some of the awards and certifications we've won in the past.
About CheckLab
CheckLab, a division of AVLab, is a new independent security software testing group. The organization specializes in testing the capabilities of security products in conditions that are designed to simulate real-world attacks. CheckLab regularly releases detailed reports that offer users valuable insight into the effectiveness of many security products available on the market.
Protect your device with Emsisoft Anti-Malware.
Did your antivirus let you down? We won't. Download your free trial of Emsisoft Anti-Malware and see for yourself.
Start free trial