Emsisoft earns BEST+++ rating in CheckLab's Advanced-In-The-Wild Test
December 29, 2020

2 min read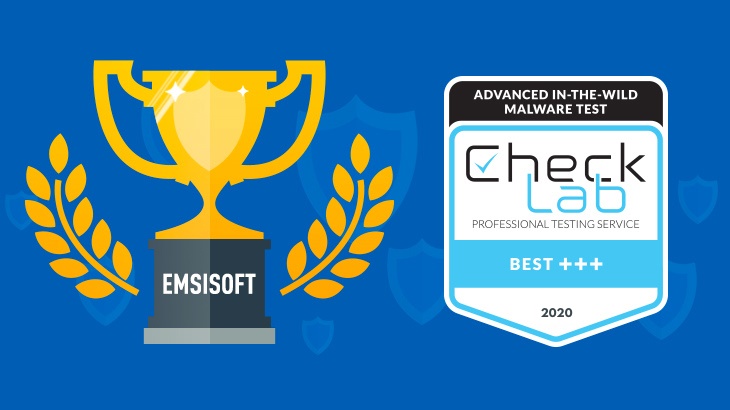 In November 2020, Emsisoft took part in the 10th edition of the Advanced in the Wild Test. Performed by CheckLab, an independent antivirus testing organization based in Poland, the test was designed to measure the detection capabilities of security products using malicious samples captured from honeypots.
CheckLab has recently published the results of the test and we're proud to announce that Emsisoft Business Security has once again achieved the highest possible rating!
Testing methodology
To perform the test, each security product was installed on a system running Windows 10 Pro x64 with user account control disabled. All other Windows settings were left at their default configuration. A variety of business applications were also installed on the testing system, including an office suite, document browser, email client and other tools you would expect to find in a typical work environment.
Security products were updated once a day, while virus databases and protection files were updated before each test to ensure the latest version of the product was being evaluated. All of the products had access to the Internet for the duration of the tests.
The products were then exposed to 1,343 malicious samples, including banking trojans, ransomware, backdoors, downloaders and macro viruses, which CheckLab captured using honeypots – traps resembling vulnerable systems that researchers use to lure in real malware.
The results
We're pleased to report that Emsisoft Business Security excelled in the strict testing conditions, successfully detecting and blocking 100 percent of the 1,343 malicious samples. As a result, Emsisoft Business Security was awarded the BEST+++ badge!
Click here to see the full report or here to check out some of the awards and certifications we've won in the past.
About CheckLab
CheckLab, a division of AVLab, is a new independent security software testing group. The organization specializes in testing the capabilities of security products in conditions that are designed to simulate real-world attacks. CheckLab regularly releases detailed reports that offer users valuable insight into the effectiveness of many security products available on the market.
Download now: Emsisoft Anti-Malware free trial.
Antivirus software from the world's leading ransomware experts. Get your free trial today.
Try It Now