Emsisoft awarded 'Excellent' badge in March 2021 tests by AVLab
April 22, 2021

2 min read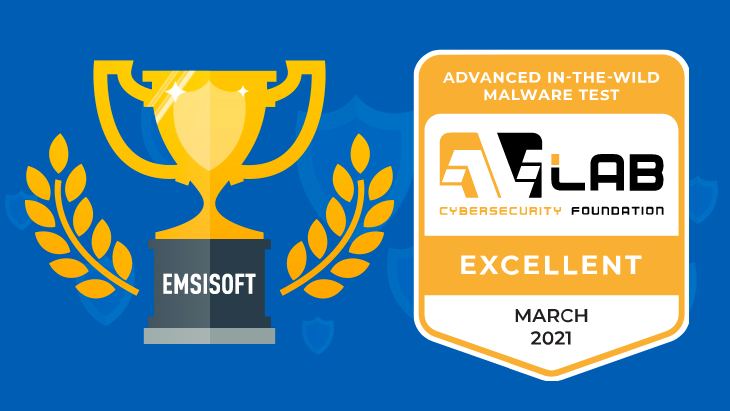 AVLab is an independent organization that specializes in evaluating the protection capabilities of antivirus software for businesses, using tests that are designed to simulate real-world conditions.
The group recently released the results of the March 2021 "Advanced-in-the-Wild Malware Test" and we're pleased to report that Emsisoft Business Security was awarded the 'Excellent' badge!
Testing methodology
The Advanced-in-the-Wild Malware Test is designed to measure the performance of security products when exposed to curated malicious samples and monitored to see not only if they could effectively detect and stop the malware, but also to gauge when in the infection process they would intervene.
Per AVLab, the intervention levels are as follows:
L1: The browser level, i.e. a virus has been stopped before or right after it has been downloaded.
L2: The system level, i.e. a virus has been downloaded, but it hasn't been allowed to run.
L3: The analysis level, i.e. a virus has been run and blocked by a tested product.
Fail: The failure, i.e. a virus hasn't been blocked and it has infected a system.
Badges are awarded depending on the detection capabilities of the product:
Excellent: 100% detection
Superior: at least 95% detection
Valuable: at least 90% detection
Results
Emsisoft Business Security successfully detected 100 percent of the 1,155 malware samples, and received the 'Excellent' designation: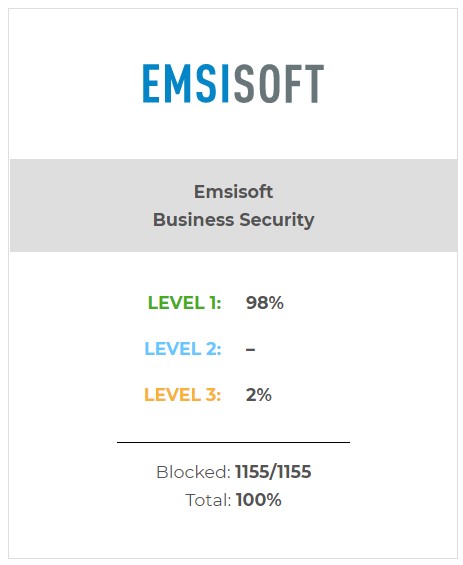 Stopped 98% of the threats at the L1 browser level
Stopped the remaining 2% at the L3 analysis level
About AVLab
AVLab is an independent Polish organization that specializes in testing antivirus products and reviewing security solutions. The group regularly releases reports that offer valuable insight into the effectiveness of various security products. Software that receives a good recommendation from AVLab can generally be trusted to provide a high level of protection.
Download now: Emsisoft Anti-Malware free trial.
Antivirus software from the world's leading ransomware experts. Get your free trial today.
Try It Now