My Facebook profile has been visited more than 15.000 times!
A friend who is new to Facebook asked, "How is it possible? I just created a Facebook account a few days ago, but my profile has been visited more than 15,000 times. I feel like a celebrity!"
"wow, i just found out that i had total 15158 visits to my profile and among these my ex was one that visited my profile the most with 121 visits just for last 7 days. You can check also your visits here http://apps.facebook.com/XXXXXXXXstalkers/"
My friend then realized that he visited one Facebook application that claimed to be able to know who and how many people visited your profile. This scam application is known as "List your stalkers". Previously, similar applications have also been closed by Facebook. But the bad guys out there never cease creating the same application under different names.
When users want to visit an application page on Facebook, normally the application will ask for permission from the user. When the user allows it, it can then access all the information about you, from biographical data, to allowing the application to be able to post on your wall.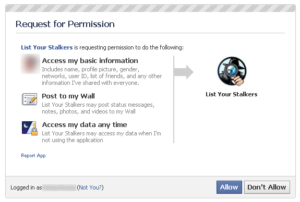 Before being able to use these applications, users are asked to fill out surveys, which they say is a verification method called "Facebook Verification Spam Bot", which is of course nonsense. Because, they just want to get money from every survey that are successfully completed by visitors.
After a user visits the application, there will be a post on the wall, with a link that leads to the application. If your friend sees this and is curious, he will also visit the application and follow the same prompts that you just followed. This is one reason why this kind of application spreads so quickly.
It can't be denied, until now there are still many people who still wonder, "Is it true?"
Is it true that it can be done? Facebook has the answer here:
"Facebook does not provide applications or groups with the technical means to allow people to track profile views or see statistics on how often a particular piece of content has been viewed and by whom. If an application claims to provide this functionality, please report the application by going to the application's About page and clicking "Report Application" at the bottom of the page, or by clicking "Report" at the bottom of any canvas page within the application.

Applications you use may ask for permission to access content from your News Feed and Wall. Granting this permission does not allow applications to see who has viewed your profile. It simply allows applications to see which friends have interacted with posts, such as which friends liked or engaged with a particular wall post."
Most of them believe what they read or see on the wall of their friends. Be careful, it's not entirely true! And remember – if it looks suspect, it probably is.
Join Emsisoft Facebook page, and don't forget to follow our Twitter to keep you stay update.