Biggest Facelift in 7 years: New Interface with Emsisoft Anti-Malware 9.0 on its way
After several months of intense beta testing, we're incredibly excited to finally announce the upcoming release of Emsisoft Anti-Malware 9.0, our most impressive suite yet. This highly anticipated arsenal of tools against advanced digital threats will soon be available for download as a free upgrade for all existing Emsisoft customers or as a free 30-day trial on emsisoft.com.
This premium security update comes with an improved scanning and cleaning engine for enhanced detection and removal accuracy, enhanced cloud lookup supported by behavior-based malware detection, internal performance and memory usage improvements, and streamlined integration with the Windows 8 and 8.1 operating systems.
More than a Powerful Facelift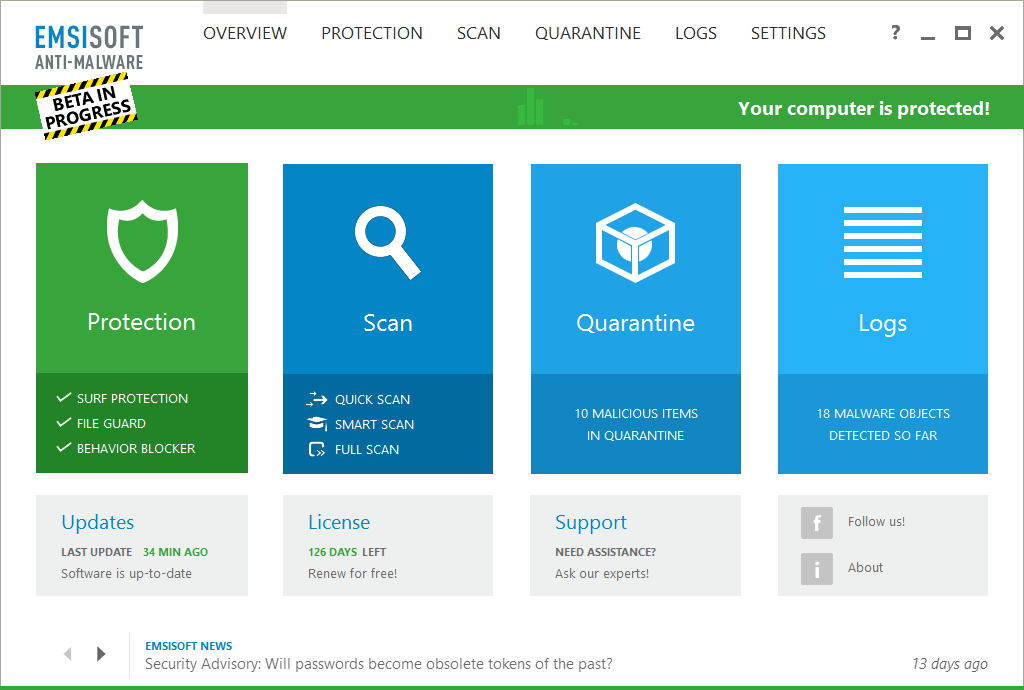 For those of you that don't already know, the BETA version of Emsisoft Anti-Malware unveiled a new milestone in Emsisoft's product design history – a complete interface overhaul that not only simplifies usability and feature management, but also helps to make Emsisoft Anti-Malware 9.0 the most powerful anti-malware available today. The new interface brings a cleaner and more sophisticated layout which has been specifically developed to enhance the user experience and dramatically improve ease of use.
The best anti-malware solution is only as efficient as the person who controls its tools and settings.
So, we've crafted our anti-malware with the user in mind, prioritizing simplicity and ease-of-use in a way that we think will satisfy even first-time users. Version 9.0 delivers an interface that is not only elegant and clean in its design, but – with its extensive features and customizable settings – we're confident it is also the most sophisticated and powerful anti-malware software you'll find anywhere.
The visual improvements streamline and unify a new interface, enabling first-time and experienced users alike to quickly find, view, and control essential features. While the main interface highlights only the most commonly used functions, the more advanced settings are still easily accessible.
We've also designed our new software to deliver unmistakable, color-coded warning boxes, that even a child could identify, to indicate your level of protection and whether or not any tools are deactivated.
Green is immediately recognized as safe and corresponds with being fully protected. Likewise, red corresponds with no level of protection, and orange represents a level somewhere in-between. We believe that this simplicity and distinct design are crucial to ensuring that there is never any confusion about how well you're being protected.
Features like this make the extent of your online security immediately identifiable, and they are not only unique from anything we have developed in the past, but they are also unlike anything currently available in other anti-malware software. We're convinced that changes like these will take any guesswork out of keeping your data safe and protected. And, as always: we are all ears for your feedback!
What to expect in detail
Cutting Edge Defense Technology
Keeping in tradition with previous releases, Emsisoft Anti-Malware 9.0 will provide cutting edge defense technology against the increasing growth and sophistication of cyber attacks and digital threats.

Compared to other suites, Emsisoft Anti-Malware 9.0 is amazingly resource-light, and it offers enormous performance upgrades for an ultrafast user experience. We have taken great efforts to re-optimize all internal components and resources, to produce a near tangible performance boost across the suite. Simply put: Emsisoft Anti-Malware is now faster and more precise than ever before.
Ultrafast Performance
In the new release, we will also introduce various internal performance and memory usage improvements. Ultrafast performance is the result of tracking down any areas with resource leaks and the optimization of many internal components. This means a vastly improved user experience. In addition, all components will now take advantage of the various security enhancements introduced in modern Windows versions, such as ASLR and DEP.
Improved Scan Accuracy, Malware Cleaning and Behavior Blocker
Several changes to both the scanning and cleaning engine have improved malware detection and removal, especially on x64 based systems. Cloud lookups have also been significantly improved to ensure better behavior based malware detection and to avoid false alarms for good programs.
Improved support for Windows 8 & 8.1
The new version of Emsisoft Anti-Malware hasbeen designed for improved integration on the Windows 8 and Windows 8.1 operating systems, taking advantage of the new notification systems and improved live tile support, among many other capabilities.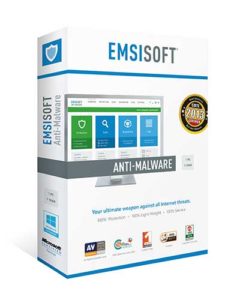 Technology Guarantee
Any user holding an active license will get this new major version update for free via regular online updates.
We have put a lot of work into this one, and we want everyone to experience our best product yet. For those of you who have been with us through the years, we hope you will be pleased with what we think is is the most powerful and modern anti-malware on the market today. And for those of you who are just joining us…
Welcome to a Malware-Free World!
P.S. Anyone who wants to get a sneak preview of what's coming with the new and improved Emsisoft Anti-Malware 9.0 is encouraged to enable beta updates in update settings. We are confident you will like what you will see soon! Please tell us what you think and don't hesitate to report any bugs that we might have missed: [email protected]
Download now: Emsisoft Anti-Malware free trial.
Antivirus software from the world's leading ransomware experts. Get your free trial today.
Try It Now