Advanced+ Rating in AV-Comparatives Proactive Test – March 2014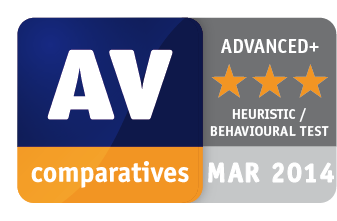 Emsisoft Anti-Malware has received an Advanced+ rating in AV-Comparatives' latest Proactive Test. This is the highest rank a participating anti-malware can receive!
About the Test
AV-Comparatives' Proactive Test is the second half of the organization's File Detection Test, which initially ran in March. The Proactive Test measures an anti-malware's ability to proactively protect a computer from the latest malware threats using heuristic and behavior blocking components alone. Emsisoft Anti-Malware was one of only 13 vendors brave enough to sign up for testing. What followed was exposure to 1200 new and very prevalent malware signatures, collected nearly 3 months after the anti-malware stopped receiving updates. The task was then to prevent infection – without access to an up to date online signature database.
Advanced+ Results
Emsisoft Anti-Malware achieved an 85% Proactive Protection rate. That means that even if our software didn't utilize a real-time, signature database capable of detecting 99.5% of everything it sees, we would still be able to protect our users from 85/100 malicious programs. An important caveat here is that many of our Proactive Protections only received "half credit" because they relied on user interaction. Were we to make an anti-malware that allowed for less user flexibility and freedom of choice, our Proactive Protection rate would soar – however so would our false positives. Just as it did in the first half of testing, Emsisoft Anti-Malware had very few false alarms: 3 to be exact, none of which came from a body of 200 of the most commonly downloaded software packages, according to AV-C.
About AV-Comparatives
AV-Comparatives is an independent not-for-profit organization offering systematic testing that checks whether security software, such as PC/Mac-based antivirus products and mobile security solutions, lives up to its promises. Using one of the largest sample collections worldwide, it creates a real-world environment for truly accurate testing. AV-Comparatives offers freely accessible results to individuals, news organizations and scientific institutions. Certification by AV-Comparatives provides an official seal of approval for software performance which is globally recognized.
Protect your device with Emsisoft Anti-Malware.
Did your antivirus let you down? We won't. Download your free trial of Emsisoft Anti-Malware and see for yourself.
Start free trial
Full March 2014 Retrospective/Proactive Test results available for download here.